college
On 4/18/16 at 10:30am, I attended the Online Learning Consortium Conference Session Commuity College Summit—StoryTelling and Growing Expert Instructors online session, NC co-presented by Nicolette van der Lee of Hawaii Maui College, Maria Fieth of CSU-MERLOT, and Brenda M. Perea, Director of Educational and Workforce Strategies at Credly

Community College Summit – StoryTelling and Growing Expert Instructors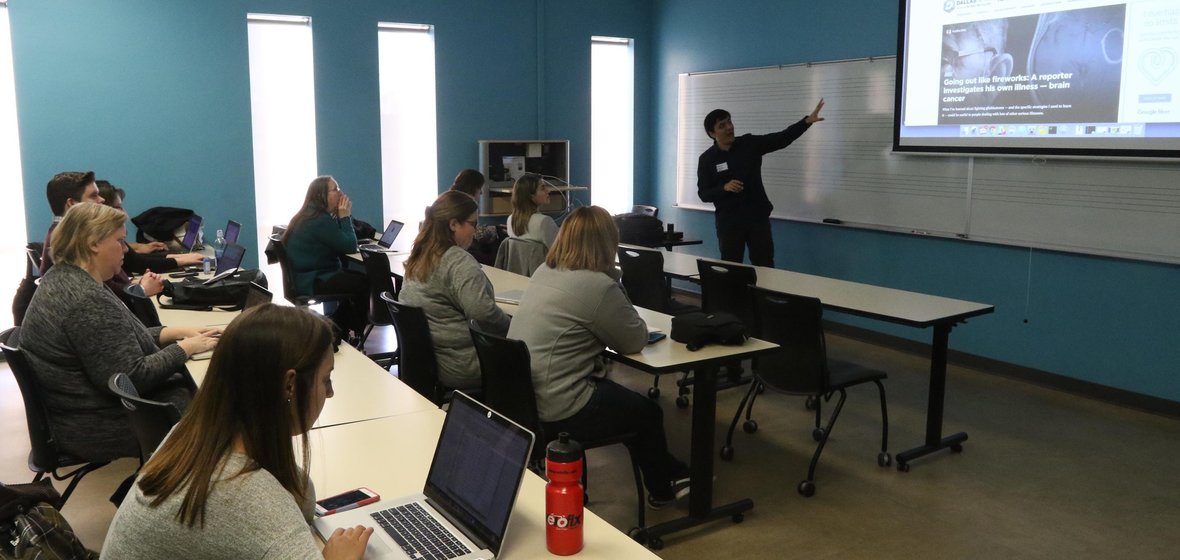 StoryTelling and Growing Expert Instructors
Community colleges face many challenges and we will address two distinct and persistent ones:
First, communicating the power of educational innovations takes more than a 30 page report – it takes a good story that engages your audience and gets them to care about your innovation.  How do we craft good stories for career and technical training programs?
Second, industry experts are essential subject matter experts that deliver the "job-driven" curriculum in community colleges and prepares our students for success in the workforce.  But frequently, being an industry expert doesn't translate into an expert instructor.
The U.S. Department of Labor's SkillsCommons project has produced free and open tools, templates, and strategies that everyone can use to address these challenges. In this session, we will briefly review the strategies and resources, and walk through how these two tools have been applied in higher education and at the industry level.
Collaborative Ideation Challenges
At this point, the presenters had us use the chat tool to discuss one of the topics. This was a bit awkward, as several different conversations were happening at once and I do not type very fast. Some conversations were very animated, others were not responded to quickly enough, and got pushed offscreen. After finding some posts to answer to by scrolling up to find them, and typing slowly, the conversation was actually gone already. It was a little chaotic, and probably worked better in a seated session.
The presenting panel asked participants to consider and choose one of the two challenges, and to explore the SkillsCommons resources on their own devices, giving out the URL for us to explore on our own. They then began a short discussion on how to deliver the right tools, at the right time to faculty and staff to successfully overcome the challenges and increase collaboration across their participants institution.
How do we craft good stories for career and technical training programs?
I'll try to sum up the communications which were happening about these conversations here:
Communicating the power of educational innovations is tough. Usually this is handed down to us in a slick sheet— this is a graphic design term for a single-page description of a new, exciting item. It isn't an in-depth tutorial. These sheets try to sell the sexiness of the product without a major focus on the practical methods.
As an instructor, we really have a dual role: We have to educate the class, but we have to capture their imaginations and impress upon them how these tools we are teaching are essential OR at least will help you in a successful career. In many cases, we have to walk a fine line: We have to explain as much as possible in an effort to clearly make the use and practicality know, but we also have to motivate students to learn to do this on their own, capturing their imaginations and encouraging them to discover the materials on their own.
We love stories of practical experience where things go very right, and stories were things go very wrong, and times when we pulled a project back from the brink.
being an industry expert doesn't translate into being an expert instructor.
I'll try to sum up the communications which were happening about these conversations here:
Many community college instructors (most really, and I know because I'm one of them) are lateral-entry. Specifically, this means that we enter teaching from a job in the field, rather than entering teaching directly from school. What makes us into good instructors— lets leave behind the idea of expert just for a moment.
Coming from the workplace, we're used to business communications where we're speaking to a group of industry experts and workers: the vocabulary is known, the audience is clear, and vision is pinpoint, and everyone is working toward a similar if not the same goal: profitability. There is no need to talk basic concepts, no need to discuss fundamentals, no need to check anyone's work. Poor performers are corrected and/or let go, and new workers are chosen because they are the best of the pool. In most community colleges, there is no barrier for entry: anyone can enter without many basic skills in reading, writing or mathematics, etc. Basic communication skills or a determination to complete are not required to take a course. If you're working in a marketing firm, you're not expected to have to reread every single proposal for spelling and grammatical errors, or determining whether or not the addition of charges adds up— these come with the territory. Without the realization of change being needed, many lateral entry teachers end up being coached, and they can find that to be demoralizing and offputting, detrimental to their careers.
Many lateral entry employees give their talks and discussions in matter-of-fact ways, and this doesn't really capture the hearts and minds of our student populations. However, when sharing the stories of the client that just wouldn't quit, the big budget issues, the project which was saved by spellchecking, the employee who was fired for procrastination, etc., students are very quickly entranced. Sharing your experiences and stories can really give extra emphasis to the materials you are bringing to bear in the classroom.
Coming from an academic-only environment, many instructors also feel that they are dealing with students similar to those they've left behind- interested, motivated students with a clear goal in mind. Unfortunately, not all students are motivated, have goals, interested in their education, or directed. Some students need direction, goals, and commiseration. Stories relating the teacher's experience to theirs can be really helpful and creating the connections, but stories are great for adding direction. Many students find that they "get by". They "got by" in high school, jobs, etc., but now they are in college and they are not "getting by" anymore. Experience is a great teacher, but demonstration alongside a story of how large obstacles can be overtaken is even better.
If education-based teachers focused on how they were able to complete, there would be a far greater emphasis on motivation. A teacher who discusses how their student group was formed and then split into categories might help others to do so. A teacher who tells that they "stayed up so many nights working from 8pm to the wee hours of the morning that their neighbors knew if the lights in her house were out… then the neighbors needed to go to bed too!" might encourage students to give that ongoing, continuous effort that really brings things together. Discussing how one teacher breaks down an assignment to research and write a paper can be helpful to a whole population. Share your knowledge!
Challenge Questions:
In why ways would storytelling benefit your college's initiatives?
What is the first story that needs to be told and to whom?
Imagine your college implemented the IE2EI course with industry experts. After one year, what are the targeted outcomes. How do you celebrate?
What did you hear today that you could use in the next 3 months. What are the first 3 steps toward making that a reality?
These questions were nice, but the answers were really ones which should come from within. Of course, the chat exploded, and the presenters hit on major talking points.
Scheming Time, Applying StoryTelling and Expert Teaching in Your Setting
Panelists showcased an example of selecting one story and discussing it. It was a math example for real-life situations about the size of a fence perimeter. They then showed one module from the IE2EI course and the audience was asked if they had considered something like it. This was helpful to many but had little relevance to me, because we do something similar but a bit more advanced at Wake Technical Community College.
Wrap-Up and Summary
There was a minor Question and Answer session. Relative to SkillsCommons IMPACTcommunities Panel, there were few questions. Most participants did not want to leave the session to view the materials. The co-presenters all ended with a brief summary of highlights and resources from each of their perspectives.
Presenters
Lead Presenter: Nicolette van der Lee, University of Hawaii Maui College
Nicolette van der Lee is a Program Coordinator at the Office of Continuing Education & Training for workforce, sustainability and contract training programs at University of Hawaii Maui College. Through the Sustainable Living Institute of Maui, she coordinates non-credit based community outreach and development activities in sustainability across disciplines including clean energy, sustainable agriculture, natural resource management, waste reduction, smart sustainable communities, and green workforce and education. She is also a StoryTelling Ambassador for the StoryTelling Network at SkillsCommons, supporting community colleges to share solutions addressing the challenges of offering industry-aligned education and job-driven workforce development. Her current doctoral research at Johns Hopkins University focuses on the sustainability of innovations, and developing strategies to build social networks, successfully engage stakeholders, and achieve sustainable outcomes in higher education.
Co-presenter: Maria Fieth, MERLOT
Maria Fieth, M.A.2, RTC. Maria currently serves as program manager responsible for communications and community building for CSU-MERLOT SkillsCommons. During the last 26 years, Maria has worked with businesses and PK-20 educators providing guidance for refining and sustaining healthy learning and working environments and building partnerships and community among stakeholders. Maria's background in federally funded project management provides a strong backdrop for national level accountability and performance. Her work has received honors for building exemplary educational settings and community partnerships from Kevin Jennings of the U.S. Department of Education and Auburn University among others. Maria holds a dual Master's degree in English and in Education, a Master's degree in Psychodynamics and certifications in Reality Therapy and from the National Institute for School Leadership. She has numerous certifications as national trainer for organizations such as Ruby Payne's Poverty Framework, Olweus Bullying Prevention, Discovery Communication Model, and Crucial Conversations. She and her husband, Andy, have three grown sons, a lovely daughter in-law, and one beautiful grandbaby.
Co-presenter: Brenda Perea, Credly Inc. & SkillsCommons
Brenda M. Perea, Director of Educational and Workforce Strategies at Credly, brings twenty-five years of experience spanning secondary, postsecondary and workforce educational fields to help learners identify and target workforce skills not apparent in traditional credentials. She successfully led CCCS to implement a system-wide badge initiative. She believes identifying competencies is critical to establish career and educational pathways in conjunction with business and industry to ensure to post-secondary education and career training is relevant for today's workforce. She works with the international Open Recognition Alliance and IMS Global to shape the national conversation on recognizing learning where it happens, industry and business engagement in post-secondary education and workforce credentialing. Brenda is also a SkillsCommons community Ambassador whose mission is create affordable innovations in workforce education and workforce development programs to be easily and widely adopted and adapted by teachers, learners, industries, and professional organizations. Brenda also speaks nationally on open educational resources, data analytics improving student success and digital badges.
At 9:00am on 3/22/2018, I attended the presentation "You Too Can Learn To Teach On YouTube", Presented by Brad Swearingen, at the 2018 North Carolina Computer Instruction Association Conference in At Asheville-Buncomb Technical Community College in Asheville, NC.
Overview
After getting started, we'll talk about Brad's recommendations. Brad mentioned that the reasons he moved to lectures on video was because of a duplication of q/a with students. They can quickly break down what they want to know, re-watch it, view only small sections, etc.
We'll talk about getting started, managing your account, recording tips, whether you can make money, and of course resources to help you out. SO, to start at the beginning.
Getting started
My recommendations for hardware and software
How to open an account
Managing your account
Recording tips
Can I make money?
Resources to help you
Q and A
Benefits
There are many benefits to having YouTube videos. Let me outline those below:
Repetition
Retention
Perpetual Resource
Visual learners
Learn at their own pace
Read industry jargon on cc
Repetition
Having material on YouTube gives you the power of repetition which you can bring to bear. Firstly, you have the ability to reference the older material yourself in the classroom. This allows you use it as a reference and also to use it to recreate and update the materials you've posted in the past. Secondly, students can use the repetition to assist them. The repetition element allows student to watch and rewatch the entire video, pieces of the video, and pass the materials as necessary to others. Students will have access to the material 24/7/365. This gives them the freedom to view and review the material at their will.
Retention
Students find that the use of videos in the class increases retention. Students in online classes like the videos and video announcements because it gives a stronger connection to the teacher. Online students can see the teacher and their mannerisms, personality, and place a face with a name and a voice. Students in the online classes feel less disconnected to their class, part of a team, and less like they are being taught by an inhuman robot. This makes the students feel more strongly about being in the class, and retention rates are higher. Since students can revisit the videos (Above) retention rates are also higher because students can bone up on the materials that normally might trip them up. This keeps grades higher and allows students to feel more confident and more successful.
Perpetual Resource
Its no secret that things posted to the internet are never truly gone. The materials are available after the test, after the lesson, after the class, and even after graduation. The material can be shared, revisited, in some cases even downloaded. As a perpetual resource, students can find those after they've found their way into the workforce.
Visual learners
Some students learn by listening, others by hands-on learning, but many people learn visually. Visual learners are able to learn by watching, seeing examples, and watching videos. Video of course is a great way to show the actions you'd like students to see, they can watch the process of implementation or creation, and they can watch each step. Also, as noted above, the students can watch and rewatch, in whole or in part, any pieces of the process which can be problematic.
Learn at their own pace
Some students learn the first time, others do not. Some read slowly and others need to truly digest their materials. Video allows students to learn at their own pace and absorb the materials as the pace they need. Also, those students who retain the information better at night can watch in the evenings, some can watch in the mornings before work or travel, and any student can revisit the video material during breaks or downtime in their study sessions. Video truly allows students to study at the time and place of their choosing.
Read industry jargon on cc
Most teachers at Wake Technical Community College are steeped in EPIC, a system of accessibility and e-Learning compatibility with an emphasis on creating truly accessible materials. As such, all videos used in our curriculum are Closed Captioned for hearing impaired and subtitled even for those who are not. This is teacher-approved and NOT google-content. As the google content is often poorly worded, their teacher-made captions allow for accurate portrayal of the materials covered. While this is a win in its own right, it also means that our students can have access to Jargon terms in clearly defined type. No longer will students in the class room fail to know terms- OK, well, will no longer have an excuse for why they don't know the terms provided in class. With every term outlined clearly, and transcripts available to our students to use as written notes, students have the ability to know and revisit industry Jargon so that they are not only informed and aware, but able to investigate on their own to deepen and enrich their own understanding.
My Recommendations on Recording Software
There are several options for recording software.

Many people teaching today use Camtasia. Camtasia is a great screen recording software which can integrate video, audio, and screengrabbing. For individuals, there is a $165 entrance fee, but many teachers have a campus license which can be used to install the material directly onto the computer as needed.
For those without those means, OBS is a fine solution. OBS stands for the Open Broadcaster Software, and open source software which can be downloaded from OBS PROJECT ( http://www.obsproject.com will open in another window). OBS project is free, easy to use, and offers a fine list of features.

My Recommendations On Microphones
Rather than describe each one here, I'll just include the image with names and prices. You can look into these as you wish. Brad was speaking a little quickly, but the gist of it was quite simple: get the best microphone you can, and don't make a bunch of hissing SSSS sounds and detonations of Popping P noises should of course be avoided.

I'm personally interested in getting one of those microphones which have the honeycomb guard over the mic. Guess I'll have to be on the lookout on my own!
Easy vs. Easier
So what do we need to know about YouTube anyway? There are a few things to separate the easy from the easier methods of using it:
Easiest if you get a gmail account
Google owns YouTube
Lots of other goodies as well
If you have an Android phone, even better
If you have an Apple, don't despair
The Process
I've done several videos on my own (about 40) so this process is fairly simple and understandable. However, I'll outline it here for ease of understanding
Record your video in Camtasia or OBS
Edit the video if desired or needed
Remember where you saved it
Go to YouTube and sign in
Press the upload button
Follow instructions
Practical Advice
So what is some practical advice that you can bring to your YouTube endeavors?
Keep It Moving
Keep It Upbeat
Keep It Interesting
Keep It Short 5-15 minutes
Keep It To the point: don't try to stretch out your videos needlessly to get your hours up
Keep It informative
Keep It Moving
Its easy to get bogged down in the minutiae of what we're doing, and easy to pontificate and expand. However, for what our students need, getting down to the best parts is what we're interested in. Keep the video moving with a good script, a clear timeline, get to the point and make it relevant to your content and your audience.
Keep It Upbeat
A nice, uptempo number is always well-received. Except at a funeral. Keep the video focused on how the students can do the work, how its an achievable goal, and how useful it will be in real-world application. Ensure them that it can be done in the time they have, and that they can revisit the links and rewatch as necessary. Don't dwell on poor grades, but note common pitfalls, issues which could be avoided, and the important parts of each lesson. Remember, if you're confident, they will be too.
Keep It Interesting
Don't actually do this. Just kidding. Keep the video interesting. Remember, once a student decides their no longer interested in watching the video, it doesn't matter how interesting it is, the video content is missed. As a result, keep the content moving forward and not only on pace but on script. Once you've lost them, you've lost them.
Keep It Short (5-15 minutes)
I don't agree with this one. Personally, I listen to a lot of youtubers while driving to work. If the video is too short, Its not worth my time unless I'm in a rush. And when I want to learn, I want to learn the content. Students like to have short videos, often dropping off heavily in the 9-12 minute mark. If you have short snippets which are not lecture related, make it work for you.
Keep It To the point: don't try to stretch out your videos needlessly to get your hours up
If you have a long lecture, and its not working for you, just divide that up into smaller segments. Again, if people aren't listening, a long video won't help. Remember, the videos aren't for us, they are for the students and you need to ensure that the students are being served with those videos. Don't tailor them to your needs, meet the student needs.
Keep It informative
Keep this material packed, and chock full of nuts.
Practical Tips for YouTube Videos
Market yourself at the beginning and the end
Say your name
Subscribe to YouTube channel
Like on Facebook
If you mess up, keep going and edit later
Use a good quality microphone
Save all your videos to the same folder on your hard drive
Stay logged in on your computer if you are the only user
Record in True HD or higher resolution
Add some energy to your voice
Add videos as often as possible: weekly
Final Tips for Success: 6 Easy Steps
Create a YouTube account
Record your video lessons
Upload videos
Create a Facebook page
Invite friends and students to like
Post your YouTube links to FB
Brad moved through this presentation in an efficient manner and pushing the basics of youtube videos with one simple motif in mind for the entire way: You can do it, and its easy enough to achieve.
No doubt, Brad uses the same methodology when creating his videos with a strong message, a clear goal and an underlaying message which can be easily absorbed and revisited: You Can Do It.
As part of Wake Tech Community College's professional development seminar, I attended the Capstone Course Roundtable presented by Walter Rotenberry. Walter Rotenberry is the lead for Wake Tech's SGD department (simulation and video game development).
In the roundtable discussion, Rotenberry laid out his procedure for a capstone course, which I have vaguely outlined below:
Establish the course as a capstone for your program. Inform students prior to entering and upon their first day in the class the details involved with the planned courses of action. Include all expectations, all contingencies, the level of quality required, and how their potential employment may be affected by their level of commitment. Remind them that they will get out of the course whatever they put into it.
Set a final date for presentation. Plan that date and make sure that the course centers around the expectations required on that date.
Focus on what is achievable. Students in Rotenberry's class presented all their materials to the class in their first week, each choosing their best project to work with, fleshing it out over time to a perfect, finished project to present.
Involve the community. Rotenberry contacted his closest contemporaries at surrounding colleges (in his case, NCSU and their graduate program in Game Development) and had a few joint sessions in which his team and their team could exchange ideas, discuss current projects, and discuss current topics, trends, and ideas in the industry. This was instrumental in achieving a program in which questions would be posed, answered, and attended to BEFORE presentation
Pitch your programs to the best in the business. OK, we presented to CEOs and presidents of video game companies in our area, Raleigh, Durham, and Chapel Hill. Walter Rotenbery lined up the individuals and set their dates to attend, reminding them prior to the festivities, and following up with each one.
Make an event of it. Students came prepared to discuss their work, networked with the individuals present and enjoyed snacks. After a short time had passed, each student presented their projects to the group, and in some cases individual computers were opened so that industry folk could try out each game on their own.
Don't let the music stop. Walter's students passed out business cards and links to online portfolios and games. Students followed up with individuals, and several made appointments to meet with industry designers. Several employment opportunities came out of the presentations, and it has become a permanent addition to the SGD (simulation and game development) track.
In attending this training, I could clearly see how our Graphic Design IV or our Portfolio classes could easily become capstone courses. Portfolio could easily transition to involvement with local organizations such as AIGA here in Raleigh, NC or TIMA (triangle interactive Media Association). Graphic Design IV could easily ally with the Addy Awards or with GDUSA and other magazine contests. I look forward to discussing this with Damu Murray, Woody Hayes, and Marsha Mills.