online
On 2/24/19 at 1:15pm, I presented at the North Carolina Community College Fine Arts Conference with the Session Using Real-Life Clients In The Classroom at the Meroney Theater in Salisbury, NC. This was co-presented by Carla Osborne of Wake Technical Community College
Using Real-Life Clients in the Classroom
At this event, we discussed the ability to work with clients in our classrooms, from beginning to end. This process included setting out the fear involved with
you for attending our presentation this afternoon. I'm attaching the videos that were in the presentation with a short description:
Baking and Pastry Arts Introductions
Since the student chefs are on another campus, this was our way of introducing them to the graphic design students:
Client/Media Relations – Summer Session 2017
We have fun in our department and for this video we roped in one of our Networking instructors as the client:
Client/Media Relations – Summer Session 2018
For this video we recruited a theatre student from NCSU to play the part of the client for Beet Box:
Design Apps III
In this short video Julie Evans introduces the rebranding assignment for Joe Van Gogh
And here's the interview with the owner:

We hope you found a few tips you could implement in your own classes. Please reach out if you have questions or if you would like to share your experiences with working with clients in your classes.
On 2/23/19 at 10:15am, I attended the North Carolina Community College Fine Arts Conference Session How To Teach Graphic Design Online at the Meroney Theater in Salisbury, NC presented by Alison Consol and Julie Evans of Wake Technical Community College
Online teaching requires a different approach to bring in students and create the kind of t=virtual communities to help create a strong cornerstone of community and a presence which could be maintained in the course. You will have to anticipat the questions before they happen, because "writing is the new coding". YOu need to have as much instruction and examples that you can to inspire but not allow materials to be copied. Students and millenials want the immediate feedback, timely materials in the gradebook, and discussions should be meaningful and relevant. Attendance can be difficult, so setting attendance to project deadlines is the easiestt way to accomplish this.
There are 452 active students at WTCC in the GRD program. Students take online and seated classes, although some are wholly online. How can we create a class which guarantees as similar or analog class online.
Certifications
Graduates in the program at WTCC earn 5 certifications as they complete the degree. These certificates allow students to be motivated to continue in the classes, and be used as an advising tool These certifications are a nice way to keep students moving forward, but it also allows students from different degrees and those working in the field to step forward and take part. Over time, we see the rates of graduation and completions rates getting higher. Depending on the amount of time it takes a student to move forward, these certifications allow student numbers to maintain a level of completions which is asy to push forward to the next certification and stay motivates.
EPIC
As part of our QEP program, all students have a mandatory E Learning Intro course. A student must complete this class before they can register for online courses. Students come to class with LMS learning, assignment materials standards, etc. so this is very helpful. EPIC removes barriers where every course maintains a similar look and feel, and EPIC allows teachers to get up to date.
The Human Element
We include welcome and weekly videos. We use ZOOM to assist with the idea of the teachers presence. The need to know who their teacher is and how to contact them. It seems like an increased distance in the online classes. We have a youtube channel for the department. These weekly videos are all conglomorated in the same place. Having this repository is easy to use, and can be pulled as needed from their classes.
Required Supplies
Checklist Documentation is added to classes to keep information on the forefront. Art supplies, software, digital cameras, hardware, reliable high speed internet, etc. Having those supplies in the bookstore allows students with financial aid to get it day one. We keep 2 chapters in PDF form in each class, so that students without books can get up to speed. Hardware is a student priority and concern. We have opportunities on campus. If the student isn't prepared, we have to have a meeting.
Attendance
Structure is important, and offers consistency. Assignments are presented in a linear fashion. Failing to complete all tasks result in a tardy. Completing everything by deadline is full attendance. Missing the assignment results in an absence.
Structure
Welcome in week 1, tasks for the week, lecture materials, discussions, and finally assignments with examples. People cannot follow long pages of text, so including materials in a consistent fashion makes it easy for people to know where to go and what to do. We use icons and avatars to chunk materials and keep the visual presence for students.
Student Collaboration Online
WIkis, journals, google docs, forms and surveys, flipgrid, voicethread. There are lots of different ways to create the community and allow students to introduce and respond to one another. We use peer review such as behance, flickr, wordpress blogs and personal websites. Students need constructive criticism and they need to develop the thick skins which can easily allows students to improve and be ready for the workforce. Discussion topics are great for shared experiences and group projects. Use testing like DISC assessments or Myers-Briggs testing to find out their types.
Web-Based Tools
Starfish is a nice way to alert students if they are in danger of failing. An ILC on your campus is a great resource. Compututor is a fantastic resource for our online students with texting, screensharing, and email.
REMIND.COM is a great resource. Social media is also a fine way to keep everyone on track, allows people to interact and network. We encourage them to use the student social media for professional purposes only. We use ZOOM to interact with students, and adobe SPARK is making a great deal of use.
How about the design process?
Original work only, plagiarism agreements, sketching, and feedback are part of every procject process. We have an assignment area and discussion board. This allows students to show to the instructor as well as the class. Finalization in situ is part of each process.
Portfolio online
Its a beast. As the culmination of their work, students have to begin with a single idea. and think about how the end user will interact with thier materials.
Assessments
Grades are based on PERFORMANCE. WIP, reflection and peer review in discussion boards allow students to get feedback. Inline commenting in blackboard with rubrics allow for stronger content. BLogs and reflective journals for self-assessments.
Good Rubrics
Begin with a set of best choices. Drill down from there to create a general rubric for creative projects that you can use as a go-to. Showcase this early and allow the students to see this rubric. THey'll know what theyll be graded on and how.
Portfolio is a high-touch environment. Allowing online students to attend seated courses is a fine method for assisting students. Online meetings are great, and full size print.
Summary
An online class should be enjoyed. Its a journey, and we have to show that we are there and we can assist them become successful. We give visual attention via video and video meetings, but its a constant improvement model. Having a set of standards are especially helpful to us.
Q&A Session
How do you handle group video meetings? It creates community, but what about those who do not wish to meet.
Zoom is used, and it records the session. If you don't want in, no harm no foul. Its recorded and you can watch it the next day. Pop it on your account and its ready.
Do students know they might have to have the meeting?
The ELI course says that you may have to attend on-campus testing or use recording to meet the needs of the class.
What about students who cannot visit?
We work with them to mail materials.
Has online impacted seated?
Some classes have removed entirely to online. Online students are a different population. It impacts enrollment, but it is really about convenience. Some population will only work partly with online classes. Online students also come from out of city and out of state. Completion has actually increased because they have time management issues, and having access to one online class allows them to continue on their course.
On 9/24/18 at 5:45pm, I attended the Excellence In Higher Education Virtual Conference Session: Motivation In Online Environments presented by Dr. John Fisher of Utah Valley University
Most students come with associates degrees, and they offer a program in law enforcement and emergency leadership. Most of these courses will be online. They have recently started work in emergency management and leadership. Roughly 10% sign up for these upper-tier courses but never start. To get to the meat of the issue, he polled and openly asked questions to find what motivated the students to start and succeed.
What motivates the student or us? SDT sets us in motion and motivation to succeed.
So how can we support the SDT students?
by connecting with students we can establish the interpersonal relationships that emphasize choice and flexibility. Dr. Fisher talked about the "emotional bank account" that is built through these close personal connections. Often, it takes a whole lot more deposites than withdrawals. In most cases, more must be put in before others are willing to take from it.
THis chart, built by Chen & Jang shows a different set of motivations and learning outcomes.
Need is a strong effect, and needs satisfaction was positive – or less negative really- for final grades.
When we support autonomy, we see a greater understanding and success on the part of the student. As students needs were satisfied, they felt more positive.
WHile we feel that we can often give cop-out answers like: "Here's the number to technical support, they're much better…" but that's not a very supportive answer.
Students who would take online courses again said they would do so because of the flexibility. Those who would not said it was because they did not get the interaction with the professor that they desired.
MOre men are taking online courses. This is an odd set of numbers. Is it because more men are coming back? it may be because job services, it is unknown
As you can see in these numbers, flexibility remains high.
These were the questions given to students to help determine how to help. The 5th question was overwhelmingly yes! The majority of online students seem to be non-traditional students with jobs and families, etc. It is odd that online students would like to have the strong contact of a seated class, but do not/would not find time to take those courses.
While 80 students took the class, only 65 seemed ready to answer the questions
Using Grounded Theory, he created some propositions and comparisons throughout the process with 4 areas specifically looked at:
ONe thing that came up was that students needed to engage early to be successful.
Students demanded that instructions were clear, that after 16wks they faced burnout. How long can you put up with the same stuff every week. They wanted to see paced courses so there was good pacing and variety
These methods are some suggestions made in terms of assignments, discussions and group work. Not all students like group work. On the other hand, others feel accountable and working. Which is surprising. Many students prefer questions and exams to papers, so some answers are quite revealing
Again, there are several major items which are commonly said, like shorter course durations, flexible schedules, the autonomy of the schedules, constant and immediate feedback, etc. Online courses must still be rigorous, worthy of credits, and collegiate-level work. Students like structured content with variety and interesting materials.
---
One of the challenges of online courses is motivation. Some students sign up for courses and don't start. This presentation reports on a study about student motivation in online education. During a course end evaluation, students were asked the following questions. Why do students not get started in online courses? What can be done to get them started and keep working on assignments? What motivates you to keep working? How could online courses be improved so you are better motivated? Responses were gathered from over 100 students in five sections of an upper division online course in emergency services. Responses to the questions were analyzed and propositions developed.
On 9/24/18 at 12:45pm, I attended the Excellence In Higher Education Virtual Conference Session: Classroom Engagement Techniques within the Online Environment presented by Dr. Freda Braddock of Columbia Southern University.
Dr. Barnett-Braddock began by noting that students were from all over the country, and we teachers were also. Sometimes we feel that our program directors don't know we're alive, that students don't read our feedback. Our students feel the same way
We are all leaders. To lead well, we have to learn how to follow. How can we follow, but follow each other. we all lead one another.
some students will be leaders, others will be followers. Some will need prompting, and we'll need to prod them. Who was the greatest motivator from the past? Close relatives are most common, but some had to lead themselves. Some times you have to step up and be a leader out of necessity.
Sometimes learning that info can help students to be motivated properly.
Engagement comes from looking within the students to see the bosses within them. They are leaders who have not had the chance to lead. By relating the past WE have to the past OUR STUDENTS have.
WE may have some PTSD that changes us- either to avoid or for the worse forever. Our Post traumatic growth can be helpful to bring to the students.
We need to understand ourselves. Still more, we need to engage the students. How can we find something personal about them that they wish to share? How can we find something that relates to the bigger picture of their life. These students may have overcome struggles that we cannot even imagine. And sometimes, we may be the only encouragement these students are going to receive.
Sometimes, taking the smallest amount of time can be immensely helpful. They are experiencing life issues just like us.
Sometimes yo need to embrace proximity. You have to step outside the norm and speak about student issues. If they divulge something to you, we owe it to them in multiple facets to be supportive. A minute to text, call, email, and you can give the best support to them.
Anything we can do will be helpful to help them succeed.
Intro Phone Calls
Some professors find that the intro phone calls are very helpful. I am your professor, I'm here for you, I want to see you succeed, and you can contact me if you have questions, comments, or concerns in the upcoming semester.
Discussing goals
Where are you now? Where do you want to be? What is it going to take to get you there? What is the goal, and how can we help you get there?
leadership 101
never meet a stranger
see potential in others
If you haven't read this book, it might be worth your time. She never meets a stranger, you are the most important person in the room at that time. Embrace some of these principals and apply them to the students and colleagues in your life. Bring all stakeholders together as much as possible.
Customize your interactions
be open to change
give space to grow
While this is pushed toward students, it ok to see these items as connecting to your co-workers as well. Everything changes. Give your students room to grow.
Our students get bored. The same old materials do not help them to demonstrate their knowledge or push themselves.
Video Messages
Social media
Reminders
Promote Learner Interactions
Establish Hours for availability
Lots of students will want to reach out through social media. However, many of you should connect through linkedin only, as it is professional, while the others may ask for or provide too many personal items. Reminders are a great way to help students stay on target. Reminders might be fine ways to send encouragment to your coworkers, students, or those you identify might need help or like encouragement.
You're already doing well, why not share those skills with others. Your career is what you're paid for, your calling is what you're made for. You're paid to help students, but encouraging and engaging with others is a great way to keep communication open and help our students.
no matter how connected you are, you have to take care of yourself. If you pur into everyone else, you'll end up dry. Take your time for yourself to be replenished as well   
---
Why do I feel so frustrated? How can I get students to read and embrace my feedback? What more can I do to encourage engagement with others? Have you found yourself pondering these common questions? If so, you're not alone. Student engagement is a hot topic across academia, from brick and mortar to online environments. However, recent spotlights on some institutions who have seemingly dropped the ball in the area of student engagement have turned up the heat on this issue. Yes, student engagement is a growing area of concern for many, but we can choose to view it differently. The featured presentation will give best practice advice on how professors can remain proactive within the online environment to promote engagement. Furthermore, tips on collaborative efforts with faculty members within one's discipline and across the curriculum will be explored as well. Yes, enhancing student engagement is not only possible, but numerous benefits can be realized if certain measures are embraced. Get ready to increase your engagement arsenal!
At 10:00am on 4/29/2018, I attended3 SEO Strategies for building a Bigger Online Community, Presented by Amanda Gorman of Pressable, at the 2018 Raleigh Wordcamp Convention in the Engineering Building I of North Carolina State University in Raleigh, NC.

3 SEO Strategies for building a Bigger Online Community
WordPress Community: An entity where connection is democratized and ideas are made tangible. The community is a way for us to move from "I just want traffic" to questions like: who are these people, what do they want?
Community = Connections
We started out with the intention: Learn how to boost your SEO to build a bigger community online with 3 simple strategies:
Keyword Research & Organization
Leveraging Competitor Insights
Writing Content that Resonates.
Intended Audience: Web designers, developers, Nonprofits. Beginner
Tending to your garden
LIke a garden, your community needs care on an almost daily basis. This "tending to"is about seeing what's needed and then providing what is needed. What ideas are you planting in the garden? that really starts with keyword research. Knowing that this is your piece of the landscape.
How do we build a bigger online community
how do we get traffic, more conversions, more conversations? Go down your own path. Be intentional, be aware, build your own trust. These aspects will be so important an answer that you'll want to push that first.
Be intentional
Keyword Research. This is where the ideas are planted and the SEO strategies start. Why are you doing what you're doing? Take your time and have direction in what you're doing. Watch those competitors and place your focus best. Client experience shows that insight into where to start can be incredibly beneficial. The rabbit holes exist, but they are not always helpful.
Core Concepts
Knowing the keywords you want to rank for vs. Knowing the keywords that are being searched. You want to be the go to person for a particular term. Wo, what is that term? The principal often has a big idea. Start with 20 keywords, expand it, then narrow it back down
"Empathy is the starting point for creating a community and takiing action. it is the impetus for creating change" Max Carver.
What does the community want and how can you expand it?
Keyword Research: Seed Keyword
The seed keywords are competitive and its good to get this before you talk with clients.
What are your keywords?

brand name
products or services
consider all possible scenarios
brandump words associated with your site

Example: Garden Center

garden supply
container gardening
gardening tips
backyard landscaping
gardening gifts
STEP 1: Dump seed keywords into google. See the related search terms. Perhaps you've forgotten catalogs, coupons, warehouses, and perhaps some of these you DON'T want to focus on
STEP 2: Working with Seed Terms build a list
spreadsheet in google sheets

ubersuggest
keyword tool
google correlate
google trends
soovle
answer the public: This is a great tool. When you see the same questions here you're asking or hearing, its great to
Objective: Tap into  long-tail keyword phrases athat are specific to your audience, their needs, desires and pain-points. Remember: Seed Keyword + Modifier = Long-tail Keyword
Using tabs with Seed Keywords, we fill in the modifiers and use that to fill in the content for your site.
Keyword research: Google Keyword planner & The Doc
Enter your keyword findings into google Keyword Planner
Keyword
clicks
impressions
cost
click through rate
average CPC
Your seed keywords are going to be the most competitive. IDentify how much people are willing to spend. Copy/past the information into the spreadsheet
A massive document is overwhelming. Make it clear and concise.
Competitor analysis: be aware
its spying a little bit, but its more about market research, how you'll become an authority in your niche. Its not a negative. understand your competitors so you can provide what's missing. What can you provide that they are not?
MOZ bar is a free tool. Plug in your keyword to google, turn on the moz bar
enter keyword
look for one or more below
review quality of content
pages with <20PA and DA. if less than 20, you can do a good job and get ranked!
ezine articles
yahoo! answers
ehow.com
buzzle
squidoo lenses
hubpages
ebay
wordpress.com
blogspot (or other free blog)
spammy press release sites
Let's Have a Look at the Moz bar in action
High page authority means you won't sneak in there. You're not trying to beat the whole domain, you're really only trying to have value for a specific page.
page authority are a lot lower here. This would be a great work to focus on. Gettting on the list will take time and effort, but find the gaps where you'll fit in
Content Writing: Build Trust
have a trust mindset to build that copy. Forget the mindset of what you want, and build a connection and build trust. Be a place people can visit to get the answers they want fully and wholly.
Tips for success:
Write freely first
Use your target keyword at the beginning. don't use more than 3 times, but have document open to the terms page, and include the related search terms, and don't overuse or push that content or overstuff.
Keep your sentences concies
Include images, charts, videos and lists. People are also visual learner.
Create comprehensive content. This is key.  Rather than provide information overload with a short reply, be comprehensive. Give a full comprehensive report on each additional item
Improve Click-through rate
Quora & Udemy shows that there is a question and a need. Look at structure of content, and get inspired on how you might approach the subject. What's missing? What questions have been asked which you can elaborate on, answer easier.
Add modifiers to your titles:
How to
the current year
review
best
fast
checklist
guide
tipseasy
simple
Use a number
Include bucket brigades: Add these headlines between content in an effort to re=catch the reader:
Here's the deal
now
whats the bottom line
you might be wondering
this is crazy
it gets better/words
but here's the kicker
want to know the best part?
The better you understand the content and the audience, the better you become and your website becomes. Keep People coming back to get that killer content.
Question & Answer
Content Length for a post?
500 minimum, but 1,000+ is better. better to write more and publish less than publish often but keep people reading than to publish often and not enough content
How to assist our customer?
Here's what competitor does. it looks like… if you write this… dive deep into the specifics, and ask what they want to write about. Help them pick down to 5-10 key terms.
How much time should we expect to take building this list?
2 weeks of time. depending on the number of tabs.30 tabs might take  6 hours. Many clients only take 2 hours. From that step, its time to push the data and see how the trends show up.
What if I'm notified of a Keyword overload?
If you have too much, consider related words. Use google keyword suggest to pull secondary words and use those in the place of the oft-repeated term
What if you're just getting started?
make connections with related industries. Life coach might find doctors and psychologist to connect with. Find a voice unfound and press into that niche. Be consistent with writing and promoting.
Other Suggestions
Brian Dean of Backlinko
See the whole slide deck at: speakerdeck.com/amandagorman/3-seo-strategies-for-building-a-bigger-online-community
---
Amanda Gorman
Amanda Gorman helps nonprofits and wellness-based businesses build thriving online communities. As a Customer Success Coordinator at GiveWP she works diligently each day to assist nonprofits in growing their communities and receiving more donations online to make a bigger impact in the world. As an SEO consultant, she's passionate about tending to the internet like a gardener would tend to their garden, so it can become a safe and fun place to connect again. Amanda uses her SEO superpowers to help her clients better understand their purpose, their audience, and how to better reach their people. Amanda is in love with her husband Casey, her nephew Jackson, and their dog Topanga whom all live together in Rochester, New York.
On 4/18/16 at 10:30am, I attended the Online Learning Consortium Conference Session Commuity College Summit—StoryTelling and Growing Expert Instructors online session, NC co-presented by Nicolette van der Lee of Hawaii Maui College, Maria Fieth of CSU-MERLOT, and Brenda M. Perea, Director of Educational and Workforce Strategies at Credly

Community College Summit – StoryTelling and Growing Expert Instructors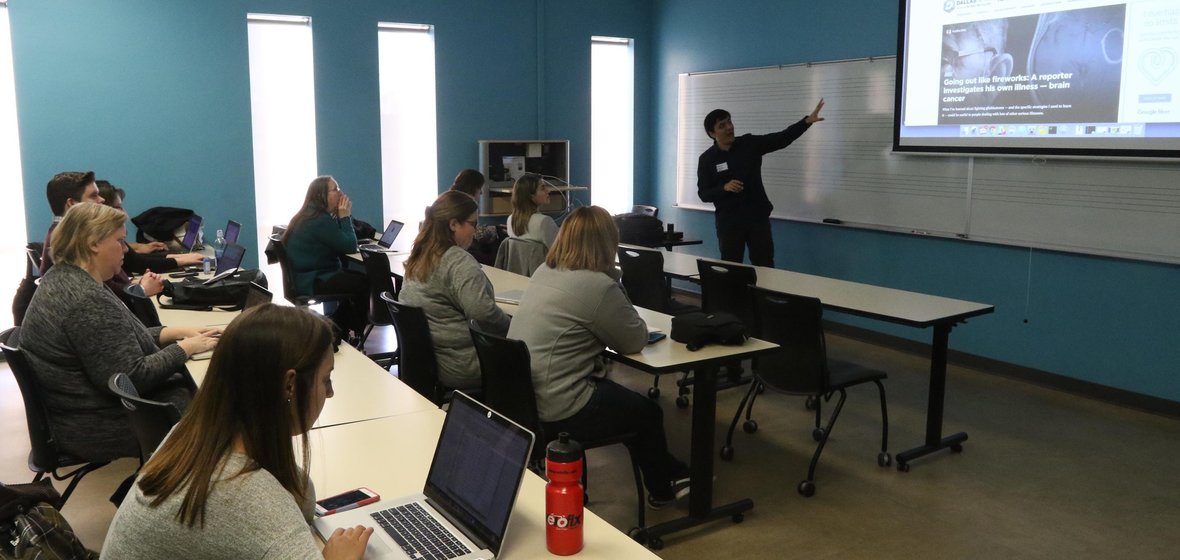 StoryTelling and Growing Expert Instructors
Community colleges face many challenges and we will address two distinct and persistent ones:
First, communicating the power of educational innovations takes more than a 30 page report – it takes a good story that engages your audience and gets them to care about your innovation.  How do we craft good stories for career and technical training programs?
Second, industry experts are essential subject matter experts that deliver the "job-driven" curriculum in community colleges and prepares our students for success in the workforce.  But frequently, being an industry expert doesn't translate into an expert instructor.
The U.S. Department of Labor's SkillsCommons project has produced free and open tools, templates, and strategies that everyone can use to address these challenges. In this session, we will briefly review the strategies and resources, and walk through how these two tools have been applied in higher education and at the industry level.
Collaborative Ideation Challenges
At this point, the presenters had us use the chat tool to discuss one of the topics. This was a bit awkward, as several different conversations were happening at once and I do not type very fast. Some conversations were very animated, others were not responded to quickly enough, and got pushed offscreen. After finding some posts to answer to by scrolling up to find them, and typing slowly, the conversation was actually gone already. It was a little chaotic, and probably worked better in a seated session.
The presenting panel asked participants to consider and choose one of the two challenges, and to explore the SkillsCommons resources on their own devices, giving out the URL for us to explore on our own. They then began a short discussion on how to deliver the right tools, at the right time to faculty and staff to successfully overcome the challenges and increase collaboration across their participants institution.
How do we craft good stories for career and technical training programs?
I'll try to sum up the communications which were happening about these conversations here:
Communicating the power of educational innovations is tough. Usually this is handed down to us in a slick sheet— this is a graphic design term for a single-page description of a new, exciting item. It isn't an in-depth tutorial. These sheets try to sell the sexiness of the product without a major focus on the practical methods.
As an instructor, we really have a dual role: We have to educate the class, but we have to capture their imaginations and impress upon them how these tools we are teaching are essential OR at least will help you in a successful career. In many cases, we have to walk a fine line: We have to explain as much as possible in an effort to clearly make the use and practicality know, but we also have to motivate students to learn to do this on their own, capturing their imaginations and encouraging them to discover the materials on their own.
We love stories of practical experience where things go very right, and stories were things go very wrong, and times when we pulled a project back from the brink.
being an industry expert doesn't translate into being an expert instructor.
I'll try to sum up the communications which were happening about these conversations here:
Many community college instructors (most really, and I know because I'm one of them) are lateral-entry. Specifically, this means that we enter teaching from a job in the field, rather than entering teaching directly from school. What makes us into good instructors— lets leave behind the idea of expert just for a moment.
Coming from the workplace, we're used to business communications where we're speaking to a group of industry experts and workers: the vocabulary is known, the audience is clear, and vision is pinpoint, and everyone is working toward a similar if not the same goal: profitability. There is no need to talk basic concepts, no need to discuss fundamentals, no need to check anyone's work. Poor performers are corrected and/or let go, and new workers are chosen because they are the best of the pool. In most community colleges, there is no barrier for entry: anyone can enter without many basic skills in reading, writing or mathematics, etc. Basic communication skills or a determination to complete are not required to take a course. If you're working in a marketing firm, you're not expected to have to reread every single proposal for spelling and grammatical errors, or determining whether or not the addition of charges adds up— these come with the territory. Without the realization of change being needed, many lateral entry teachers end up being coached, and they can find that to be demoralizing and offputting, detrimental to their careers.
Many lateral entry employees give their talks and discussions in matter-of-fact ways, and this doesn't really capture the hearts and minds of our student populations. However, when sharing the stories of the client that just wouldn't quit, the big budget issues, the project which was saved by spellchecking, the employee who was fired for procrastination, etc., students are very quickly entranced. Sharing your experiences and stories can really give extra emphasis to the materials you are bringing to bear in the classroom.
Coming from an academic-only environment, many instructors also feel that they are dealing with students similar to those they've left behind- interested, motivated students with a clear goal in mind. Unfortunately, not all students are motivated, have goals, interested in their education, or directed. Some students need direction, goals, and commiseration. Stories relating the teacher's experience to theirs can be really helpful and creating the connections, but stories are great for adding direction. Many students find that they "get by". They "got by" in high school, jobs, etc., but now they are in college and they are not "getting by" anymore. Experience is a great teacher, but demonstration alongside a story of how large obstacles can be overtaken is even better.
If education-based teachers focused on how they were able to complete, there would be a far greater emphasis on motivation. A teacher who discusses how their student group was formed and then split into categories might help others to do so. A teacher who tells that they "stayed up so many nights working from 8pm to the wee hours of the morning that their neighbors knew if the lights in her house were out… then the neighbors needed to go to bed too!" might encourage students to give that ongoing, continuous effort that really brings things together. Discussing how one teacher breaks down an assignment to research and write a paper can be helpful to a whole population. Share your knowledge!
Challenge Questions:
In why ways would storytelling benefit your college's initiatives?
What is the first story that needs to be told and to whom?
Imagine your college implemented the IE2EI course with industry experts. After one year, what are the targeted outcomes. How do you celebrate?
What did you hear today that you could use in the next 3 months. What are the first 3 steps toward making that a reality?
These questions were nice, but the answers were really ones which should come from within. Of course, the chat exploded, and the presenters hit on major talking points.
Scheming Time, Applying StoryTelling and Expert Teaching in Your Setting
Panelists showcased an example of selecting one story and discussing it. It was a math example for real-life situations about the size of a fence perimeter. They then showed one module from the IE2EI course and the audience was asked if they had considered something like it. This was helpful to many but had little relevance to me, because we do something similar but a bit more advanced at Wake Technical Community College.
Wrap-Up and Summary
There was a minor Question and Answer session. Relative to SkillsCommons IMPACTcommunities Panel, there were few questions. Most participants did not want to leave the session to view the materials. The co-presenters all ended with a brief summary of highlights and resources from each of their perspectives.
Presenters
Lead Presenter: Nicolette van der Lee, University of Hawaii Maui College
Nicolette van der Lee is a Program Coordinator at the Office of Continuing Education & Training for workforce, sustainability and contract training programs at University of Hawaii Maui College. Through the Sustainable Living Institute of Maui, she coordinates non-credit based community outreach and development activities in sustainability across disciplines including clean energy, sustainable agriculture, natural resource management, waste reduction, smart sustainable communities, and green workforce and education. She is also a StoryTelling Ambassador for the StoryTelling Network at SkillsCommons, supporting community colleges to share solutions addressing the challenges of offering industry-aligned education and job-driven workforce development. Her current doctoral research at Johns Hopkins University focuses on the sustainability of innovations, and developing strategies to build social networks, successfully engage stakeholders, and achieve sustainable outcomes in higher education.
Co-presenter: Maria Fieth, MERLOT
Maria Fieth, M.A.2, RTC. Maria currently serves as program manager responsible for communications and community building for CSU-MERLOT SkillsCommons. During the last 26 years, Maria has worked with businesses and PK-20 educators providing guidance for refining and sustaining healthy learning and working environments and building partnerships and community among stakeholders. Maria's background in federally funded project management provides a strong backdrop for national level accountability and performance. Her work has received honors for building exemplary educational settings and community partnerships from Kevin Jennings of the U.S. Department of Education and Auburn University among others. Maria holds a dual Master's degree in English and in Education, a Master's degree in Psychodynamics and certifications in Reality Therapy and from the National Institute for School Leadership. She has numerous certifications as national trainer for organizations such as Ruby Payne's Poverty Framework, Olweus Bullying Prevention, Discovery Communication Model, and Crucial Conversations. She and her husband, Andy, have three grown sons, a lovely daughter in-law, and one beautiful grandbaby.
Co-presenter: Brenda Perea, Credly Inc. & SkillsCommons
Brenda M. Perea, Director of Educational and Workforce Strategies at Credly, brings twenty-five years of experience spanning secondary, postsecondary and workforce educational fields to help learners identify and target workforce skills not apparent in traditional credentials. She successfully led CCCS to implement a system-wide badge initiative. She believes identifying competencies is critical to establish career and educational pathways in conjunction with business and industry to ensure to post-secondary education and career training is relevant for today's workforce. She works with the international Open Recognition Alliance and IMS Global to shape the national conversation on recognizing learning where it happens, industry and business engagement in post-secondary education and workforce credentialing. Brenda is also a SkillsCommons community Ambassador whose mission is create affordable innovations in workforce education and workforce development programs to be easily and widely adopted and adapted by teachers, learners, industries, and professional organizations. Brenda also speaks nationally on open educational resources, data analytics improving student success and digital badges.
At 11:00am On 11/8/16 I attended Curriculum Design: The Missing Link Between Learning Outcomes and Online Course Syllabi presented by Laura March at the 2016 USCA NDLW Virtual Conference.
Curriculum Design: The Missing Link Between Learning Outcomes and Online Course Syllabi
In this virtual session, Laura March taught us how to use a Curriculum Design Document to transform the process of course development. While building an online class can be difficult for both new instructors and seasoned professors, this process purports to allow course developers to easily align teaching methodologies with activities and assessments. Participants in this interactive session applied the Curriculum Design Documents to their own work in order to facilitate active learning and challenge the lecture-and-quiz format typical of ineffectively-designed courses.
Throughout the conversation, Laura called out for everyone to add their thoughts to the discussion. When calling for other helpful resources, we noted that Quality Matters is a fine system, and Facultyfocus.com ( http://www.facultyfocus.com will open in a separate window).
Other topics included how schools should check in on previously-trained online instructors, or the process of teaching online in general. A general concensus was that this was a topic well-ready for faculty to begin prepping for, and that while mandatory training is needed, few if anyone is ready to take ownership of this once it has been rolled out. Most people felt that lead instructors should be monitoring the online adjunct classes as a method to achieve that level of compliance and adjunct performance desired in the school.
Laura's full presentation
Laura's Full Presentation can be seen online here: Laura March's Presentation or you can access the PDF here: curriculum-design-presentation-by-Laura-March
As we worked through the presentation, Laura provided us with a curriculum design Document: curriculum design document for teachers by laura march.
Working through this briefly had some interesting effect on my thoughts, especially when she noted some examples of instructional strategies and offered the following links:
Instructional strategies
For examples and descriptions, consult the following resources:
• UT-Austin Learning Sciences
• Carnegie Mellon Teaching Excellence & Educational Innovation
• Illinois Online Network's Instructional Strategies for Online Courses
• Creating Inclusive Classrooms
She offered us a syllabus template that we could use, and we discussed how that might affect our classroom. I'll attach it here: syllabustemplate_lauramarch. This item is not likely to be accessible, so didn't have that great of an impact on me though.
Fifty Alternatives to Lecture
We completed our talk by discussing alternatives to boring presentation patterns that she enjoyed. These had been researched by J. Prusch and written and adapted by A.M. Pickett.
Almost any activity can be designed to be carried out in some way or another for an online course. Most important is that the instructor must set up the activity with all the supporting and explanatory documentation necessary for the students to understand fully what they are to do, when, where in the course they are to do it, what is expected specifically, and how they will be evaluated. Areas in the course must be designed and set up in advance by the instructor to account for and accommodate, explain, model, and evaluate each activity. Below are some ideas to get you thinking about what is possible and how. For help implementing any of these ideas in your course, contact your assigned instructional design partner.
1. Conduct an interview: A formal interview consists of a series of well-chosen questions (and often a set of tasks or problems) which are designed to elicit a portrait of a student's understanding about a concept or set of related concepts. The interview may be conducted as an offline activity and videotaped or audiotaped for later analysis, or online asynchronously. Online course assignments and activities can be designed to prepare interview questions either as individual or small group activities.
2. Guest speaker: Instructors can bring additional expertise into the "classroom" in the form of virtual guest speakers. The instructor sets up a module or section in the course for the guest speaker, sets up the activity, introduces the guest speaker, requests web access for the guest speaker, and creates the kick off document for the guest speaker to use to start the discussion or presentation. The Guest then interacts in the course via the web.
3. Student led discussion: Often associated with 'idea circles.' These are peer-led, small group or whole class discussions of concepts fueled by single or multiple text sources. Students work together with a student leader to build abstract understandings from the facts, data, and details provided by a variety of resources. Variations include students assuming the role of the professor, asking guiding questions, & facilitating the discussion.
4. Student summaries: single sentence or paragraph. This simple technique challenges students to answer the questions "Who does what to whom, when, where, how, and why?" (represented by the letters WDWWWWHW) about a given topic, and then to synthesize those answers into a simple informative, grammatical, and long summary sentence. Can be used as a pop quiz. See below.
5. Pop a quiz: These quizzes can be used as "curve busters," opportunities for students to earn extra points and improve their grades by answering questions correctly. Pop quizzes are unannounced and can be inserted at any time into any course module. A pop quiz section to each module with an explanatory document can alert students that a pop quiz might occur at any time. Information on the pop quiz aspect of the course should be clearly detailed in the course in formation documents of the course and in the module at a glance areas of module in which they are likely to occur.
6. Direct an observation: observations may include written field notes with detailed accounts of an event, objects or people observed. They run the gamut of disciplines from artistic to scientific observations. The observation is conducted as an offline activity (See related, Field Trip). Online course assignments and activities can be designed to prepare observation instruments either as individual or small group activities.
7. Brainstorming: This is a technique for generating new, useful ideas, and promoting creative thinking. It can be a very useful to help generate ideas for projects, encourage shy or reluctant students or solve problems. This can be conducted online as a small group discussion activity or with the class as a whole.
8. Build consensus: Students are expected to look for key themes of a given topic and post their position. Next students read others messages, look for an ideal framework and post a message supporting more than one position. In the following stage, students also post a message supporting more than one position. Finally, there is a debriefing, discussion and final evaluation. A specific example is the Jigsaw method. It is a useful for encouraging cooperation. In this technique students are arranged in "expert" groups, responsible for developing an approach to solving part of the problem. Students are then rearranged in "home" groups with one person from each of the expert groups and are expected to find an overall solution. This is then brought together by the instructor by having each group report their overall solution. This can be organized as an online activity using small groups. Careful planning, explanation, and course document set up is necessary to have this flow well and in a timely way. Tip: As an online activity, the best results are when the instructor assigns members to groups and assigns roles within the groups in advance, rather than letting student self select into groups, and workout roles.
9. Buzz groups: A group is divided into sub-groups of from 3 to 6 persons each for a brief period of time, to discuss an assigned topic or to solve a problem. A representative is sometimes selected from each sub-group to report the findings to the entire group. It allows for total participation by group members through small clusters of participants, followed by discussion of the entire group. It is used as a technique to get participation from every individual in the group. This activity is implemented online via small group discussion activities.
10. Case Histories: Case teaching presents authentic, concrete teaching problems for students to analyze. Teaching cases have long been a cornerstone of professional training in schools of business, law, and medicine. It provides models of how to think professionally about problems. Online case studies or histories can be set up as activities for individual or small group work.
11. Chain story, poem, article: The teacher begins e.g., 'One morning Ben got up & went to work.' A student is invited to continue with another sentence & so on round the class. You provide the linkers – 'and then', 'so', 'next', ….' finally'; good for conditionals. Each person adds to what the previous person told, ending on a cliff-hanger phrase such as, "but suddenly…" or "but when he opened the door he saw…" and so on — the trick being to work the word in so that it fits the story. This works for poems, articles, and dialogue, too. This can be set up as an online activity either as a discussion with the class as a whole or in small groups. Every time a new person logs in to the course they add to the story…
12. Chain math or science problem: The teacher or a student poses a multi-staged problem which one student after another offers one step in its solution. This is done in small groups. Variation: students are given a list of solutions, and asked to create the problem to which it is the answer. The instructor gives guidance on what type of problem the solution is to. This can be set up as an online activity either as a written assignment with the "save for class" option and including the class as a whole or in small groups. Every time a new person logs in to the course they add a step to the solution or problem. The first person to save their response gets the credit for that level. Duplicate or concurrent respondents have to redo their response at a different level.
13. Charts: They can be used in a variety of ways in all disciplines, sometimes teacher- , other times student-generated to cover a vast array of topics. Closely related is the Categorizing Grid. Charts can be created using various software programs and attached to assignment documents for the instructor, for the class, or in small groups; both as stand alone documents or as supportive materials to a presentation or paper.
14. Chalkboards/Whiteboards: Teachers or students use these to outline, summarize, and highlight concepts and information. Online these can be created in Powerpoint or other graphics programs and attached as files to assignment documents. There are also tools that can be used synchronously online specifically for this purpose that may include capture and playback options as a feature.
15. Class created annotated bibliography: A glossary of various types of resources for any discipline. Using the Shared References Area and form students can be directed to regularly contribute a certain number of shared references to the class. As a directed learning activity the instructor can evaluate the student on the quantity of submissions, and require that the student include a summary of the resource as well as an evaluation of the resource. There are fields on the shared references form for summary and evaluation notes and to document the type of resource.
16. Conduct a survey: The teacher or students devise a survey instrument to use in or outside class. One example of a teacher-created survey is the attitude survey of students which provides valuable information on student perceptions of their online course experience, or as a mechanism to poll students on a particular course-related topic. Students can also work in small groups to design instruments that they then implement offline and return to the group or class to report on.
17. Debate: Informal debates encourage students to think critically about an issue or issues presented in class and allow for interactive class discussion. It is implemented by dividing students into two groups and assigning each a point of view to debate based on controversial material that had been presented in class. It is a pro-and-con discussion of a controversial issue. The objective is to convince the class (audience), rather than display skill in attacking the opponent. This can be done using the small group for preparation of the strategy of each side, and discussion areas for the actual presentation of the debate in the online course.
18. Demonstration: Teacher or students demonstrate a concept, procedure, or technique. This can be an online or offline activity. Online, it might be presented as a discussion with supporting documents or graphics. Offline, it might be video or audio taped to be turned into the instructor, with a section in the online course for reflections on the process. Or, a video or audio tape sent to the students by the instructor, with a section in the online course for reflections on the process.
19. Discussion: Lively online discussion fosters democratic participation and enhances learning. It emphasize participation, dialogue, and two-way communication. The discussion method is one in which the instructor and a group of students consider a topic, issue, theory, or problem and exchange information, experiences, ideas, opinions, reactions, and conclusions with one another. Teaching by online discussion can be an extremely effective means of helping students apply abstract ideas and think critically about what they are learning and how to use and evaluate online and other resources to support their positions. Variation: student – led online discussions. Online discussion questions work best that are open ended and provocative. Instructors need to make sure students understand what is expected and how they will be evaluated. Students must be clear on how to take a position and support it. See related, Questions and Answers.
20. Field trips: This strategy increases motivation and highlights the application of classroom material to the real world. It is an excellent opportunity to facilitate learning outside of the online classroom in an interesting and purposeful way. Field notes, reports, inventories, and treasure hunt lists, can be developed in the online course individually or in small groups and then used in the field trip. Students can then return to the course to report on their experiences to the class or in small groups. Variation: Students can also videotape the field trip and turn it into the instructor. See related, Direct an Observation.
21. Film/Video: As an offline activity for an online course, these visual tools help build background for particular topics or motivate student reaction and analysis. They encourage the use and development of communication skills and can be used to establish a social context for English as a second language, or to provide visual "texts" for deaf students. Film/Video/Audio etc. can be developed by the instructor and sent out to students, or in some cases students can be directed to find a particular resource at the local library or video rental store.
22. Group activity: There is a nearly endless list of group and collaborative activities you can do in the online classroom. The group discussion, for example, provides an opportunity for pooling of ideas, experience, and knowledge.
23. Keep a journal: Journal entries provide students an opportunity to make observations and reflect on their learning or development of a skill. This can be saved privately by the student and then periodically turned in to the instructor or submitted to the instructor on more regular intervals. Journaling activities can also be done in pairs or small groups with peer review intervals.
24. Games: They can be used to teach everything from art to zoology and are only limited by the imagination. Online or offline games can be used. Students can work individually or in small groups.
25. Laboratory: This is where students apply what they have learned. Labs can be set up as online experiments using simulation web sites, or software, or off line as actual experiments that the students conduct and then return to the class to report their findings. Lab packets can be sent to students including anything from seeds to sprout to a dead cat for dissection… Set up for this activity is rigorous and essential.
26. Learning teams: This group method encourages full participation from students in the learning process, provides shared support among students and promotes individual preparation prior to class. This can be accomplished online using the small group areas. Variation see, Study Groups.
27. Maps: Concept maps, diagrams, maps to are used to explain concepts. They can be student- or teacher-generated. They can be created in spreadsheets or other graphics software programs and attached as files to assignment documents or imported into the course for display.
28. Memorization: There are a variety of memory techniques that students can devise, learn about, and practice as online and off line activities. In an online course that requires memorization, the self-test is a useful study tool to help students self assess.
29. Models: Teaching and learning models add dimension to the learning environment even when they are abstract. In an online classroom, models can be used as examples to clarify what is expected from the student in terms of behavior, responses, quality of work, etc.
30. News Articles: Topical news stories are a great source of teaching material. They can raise the level of involvement and participation that the students have in the lesson. In an online class, topical news stories can be used to bring in current events or to target learning to the individual interests of students, or to target learning to timely topics. To do this in an online course where everything must be created prior to the first day of class, the structure of the course is designed in advance to explain, and accommodate timely topical new, e.g., place holder documents are created in the course in a Module called "the news room" where topical news based activities will appear as they happen in the news. Variation: Students pick a news story, item, trend, issue and follow it and post assignments related to their topic designed build expertise in the student on that topic, e.g, student becomes an expert related to the economics of South Africa, by reviewing an assigned list of periodicals for a certain period of time and completing a series of assignments designed to probe the topic, leading a small group discussion , and writing a paper to synthesize a report on the topic.
31. Object/Object Lessons: Activities specifically developed to target the nature of science concepts serve as object lessons that can enhance online discussions.
32. Panels: A an online discussion among a selected group of students with an assigned leader, in front of the class that joins in later. It is used as a technique to stimulate interest and thinking, and to provoke better discussion.With set up and explanation this can be done online using online discussion. Students are broken into Groups/Panels, given a topic, a leader is assigned. The discussion in each group is restricted to group members but members from other groups are assigned to pick other panels to follow and then at a specific time are invited to pose questions to the panel and participate in the discussion.
33. Paradox: It helps students move beyond either/or toward both/and thinking. A paradox presented online to a student, a small group , or to the class can be a very effective discussion starter, written assignment or small group activity to problem solve. See related, Puzzles.
34. Peer Review: Student peer review is often used to increase the amount of feedback students receive on their writing and speaking assignments, but it can be applied to a variety of activities. Variation: Peer observations are different from the peer review. You aren't asked to review, rank, or evaluate your peers, but provide formative information, to help a person improve, change, and grow as a writer. Online this can be done in assigned pairs or in small groups.
35. Picture Studies: Use of pictures & diagrams in the classroom. Graphics files can be imported or attached to documents in an online course by the instructor of the student to illustrate, support, document, or demonstrate.
36. Problem Solving: Online, students solve given or self-generated problems individually or in groups.
37. Projects: These can be done individually, in pairs or groups, student- or teacher designed. They can be online or offline activities. They can be posted online, to the instructor, to the class, to a small group, for evaluation, review or discussion. Or sent in to the instructor for evaluation, e.g., a sculpture, a video demonstrating a skill, an audio tape of a conversation in a foreign language, etc.
38. Puzzles: These cover all disciplines and may be verbal(written), mathematical, conceptual or concrete. A puzzle presented online to a student, a small group , or to the class can be a very effective discussion starter, written assignment ,or small group activity to problem solve. See related, Paradox.
39. Quiz or self-test: Questions may be short essay, multipart, matching, multiple choice, short answer, true/false, etc.
40. Questions and Answers: A variation on the ancient Socratic method. This as an online activity can be done with the entire class or in pairs or groups. Student and teacher may reverse roles. See related, Discussion.
41. Report: An online report may occur in a variety of formats and may be delivered individually or as a group effort, to the entire class or to small groups, or to the instructor. The instructor must set up the location in the course for reports and clearly document, how, when, and where reports are expected.
42. Review: An online review may have various resources as its object such as a book, article, a performance, etc. Variation: Students can peer review each other's work.
43. Role Playing: The spontaneous acting out of a situation or an incident by selected members of the group. It may be used as the basis of developing clearer insights into the feelings of people and the forces in a situation which facilitate or block good human relations. Online a role-play has documented and assigned roles, scenarios that set up the situation or incident and can be carried out in small groups. The instructor must provide very clear definition of roles, role assignment, activity set up, explanations, etc. A role play must be carefully planned and executed in an online course for it to work. See related, Simulation.
44. Skits: Skit writing can easily be incorporated into an online classroom including science and math to make concepts and ideas come alive. A skit can also be carried out in an online classroom as an offline activity that is video taped and turned into the instructor for review and evaluation. A report /description of the skit can be submitted by the student online to the class to incorporate it as part of the online course.
45. Simulations: (1) Provide a way of creating a rich communicative environment (a representation of reality) where students actively become a part of some real-world system and function according to predetermined roles as members of that group. Some examples include the Analytic Memo, In Basket (Manager's Box); Committee Hearing; management lab (corporate business); treasure hunt; web quest; Sam's Café (philosophical perspectives); Point Counter Point; U.N Council Meeting; Let's Do Business!, etc. Rigorous set up for this type of activity is required on the part of the instructor. Definition of roles, role assignment, activity set up, explanations, etc., must be carefully planned and executed in an online course for this to work. See related, Role Play. (2) Multimedia simulations can be added to an online course to illustrate, explain, deconstruct a process, function, system, etc. Simulations can be distributed to students on CDs as accompanying materials to the course, added as objects or links to a course as presentation material, be incorporated into a course as a component of test or quiz, etc.
46. Storytelling: This is a powerful teaching strategy that can be used online not only in English, but also in history and any disciplines with an historical background, which includes all.
47. Study Groups: Students can be assigned to pairs or small groups to help each other out in the course for the entire duration of the course, or to rotate with time or change in topic. Variation see, Learning Teams.
48. Symposium: An ancient Greek instructional technique. It is a discussion in which the topic is broken into its various phases; each part is presented by an expert or person well-informed on that particular phase, in a brief, concise speech. Online, students can perfect their phase individually or in small groups with discussion and assignments designed by the instructor or the students to perfect their brief concise "speech," and then be directed to present it to the entire class.
49. Take a poll: This is a quick technique that can be used to take the pulse of the class, highlight differences of opinion or interpretation, and surface assumptions. Instructors can use the test/self-test or multipart written assignment forms to create their online polls.
50. Testimonies: Personal testimonies bring life to any learning environment. Online self disclosure can be easier for some with an aspect or illusion of anonymity because of the lack of face to face presence. Ground rules need to be set up to establish expectations for confidentiality, online courteous behavior, and respect for each other.
Multimodal Strategies to Increase Student Engagement 
The focus of this forum is to experience multimodal universal design strategies aimed at increasing student engagement. Formal student engagement directly increases student success and indirectly increases student goal completion. Participants will gain special insights through small group practice.
William Strond, Professor, Biology, Oakton Community College, IL
Many new online instructors initially create online courses that are fairly linear and mostly text. They quickly realize that such an approach would not work for every student, particularly those in  pre-college learning courses.
Many begin by writing lectures in a rather formal style, almost as though the pages were a textbook before they come to realize why it isn't working. Teaching is an art, and not all people are very good at reading, and their engagement level is going to be fairly low, regardless of how much the content grips someone who loves the text.
Practical advice you can take to bring life back into your online classes using multimodal strategies:
1. Change the activity every 15 or 20 minutes.
Instructors in a traditional classroom can immediately see their students losing interest— but these cues are not available in the online environment, so estimate how much time each activity in you course is likely to take students and change learning modes when necessary.
One way to break up the content is by using videos, mp3s and screencasts created with Camtasia as a way of demonstrating the concepts presented in your lectures. In addition to engaging students in a different way, there are certain concepts that are easier to understand in this format. Realize that there are times when you as a teacher really want to show them how things go. Show them how you take main ideas from one assignment and apply them to one or more individual lesson items. This will make learning physical, and the making will deepen understanding among your students
2. Repeat the lesson in multiple modes to reinforce the learning. In addition to breaking up the monotony, presenting the same concepts in more than one mode can reinforce ideas and help students learn in ways that suit them best. Students may notice the repetition, but in a typical lesson it is possible to repeat the same information in three different modes.
A typical lesson might include a Web page, an animated PowerPoint presentation, and perhaps a video—so that you're giving them the same material in three different ways. They may be reluctant to go back and read the Web page, but what they don't realize is that in the three lessons they've gotten the same exact information three different times.
In addition to incorporating these various modes within each lesson, intersperse quiz questions throughout. If you've been telling students what's going to be on the quiz, you can actually see the answers as you read or as you listen. Some students learn best with facts and when points are on the line. This acts as a motivator and shows that the quizzes are directly connected to your course content.
3. Create supplementary activities if necessary. Sometimes students fail to grasp the content immediately. In a face-to-face course, this lack of understanding can be remedied easily with a quick and simple review. Consider the same thing in your online courses when low quiz grades or other indications that students are failing to understand something. In these instances, consider  creating a quick Camtasia screencast and incorporates that into the next lesson as a review.