wake technical community college
At 9:30am on 11/12/19 at the Scott North Campus of Wake Technical Community College, I attended the Opening General Session: From Teaching to Learning: A Best Practices Instructional Model presented by Dr. Mark Taylor of Taylor Programs.
Opening General Session: From Teaching to Learning: A Best Practices Instructional Model
Dr. Taylor is dedicated to helping faculty and staff better understand and improve their skills in working with students for learning, development, persistence and workplace readiness. While he makes his literature available and offer links to other resources, he feels he is most effective when offering programs and workshops at schools and conferences. He has visited community and technical colleges, universities, private and professional schools from Massachusetts to California, Minnesota to Texas, and in Canada, as well as presenting at conferences across the country and in Australia, Canada, Ireland and Denmark.
This workshop intends to help faculty understand and transition to a researched, informed, best practices model of teaching and learning designed to help students more effectively reach learning outcomes across a range of cognitive and affective domains, especially around higher order reasoning skills. Methods to increase student activity, engagement, investment, responsibility for their own learning and ownership of desired class outcomes will be discussed, described, and demonstrated. The focus on improving persistence and workplace readiness, as well as learning will be paramount to this presentation.
Our presentation will be a summation of a full-day presentation. It will be the best lecture on not giving lectures that we may ever hear. Milenials initial press was so wrong. Current Millenials are entitled and teaching is our responsibility while learning is not their responsibility.
The Generation NeXt writings have been very well received by people. They might be worth reading.
Many millenials graduates find that school is hard, and some need 8 months to sit and recover. Children who grow up being told they're important only want to work for companies that say that they are important, and changing the world.
His latest pieces on pedagogy of milennial theories and practices constitute a single idea but was broken into 3 pieces to be effective.
What is Our Place?
Community college is required to the ecosystem of education. We are the statue of liberty of education: give us the poor, academically weak or unready, your first generation, your EFL & ESL… we will meet them and help them to achieve.
Access to higher education

open admissions / welcoming to all / affordable
this place or no place

High expectations / academic rigor

comparable academic standards
workplace readiness

support / nurturing environment

They need to hear it. They need to know it
They need services that meet their needs
Then need people who care about their needs
Colleges are structured to provide instructions. They should not be. They should be structured to bring about learning. we need to switch our thinking from a focus on teaching to a focus on learning. Its less about us, and more about the students
College teaching is the strangest profession. We train people to do so many different tasks, but then we ask some of them to teach what they have learned. When hired, we're often asked to "give us a show". We do what we're not trained to do. we do what teaching looked like when they were taught. Faculty people are folks of good will who want students to learn, and doing their best to bring about that learning.
We are not discussing what most classes do. MOst classes are an active teacher talking to a passive student. WHo does the work and learns the material? the faculty person. It is not a traditional "faith-based instruction", but instead do what research tells us works.
If a doctor said: "You have the flu, and I'm gonna bleed ya!" we'd want to know if that's really the most effective way to solve it. In higher ed, the most effective instruction is happening in Community colleges. Because we care and act passionately. lowest learning comes from research-based institutions, because best teachers are researching.
Most learning is just regurgitation. We need students who do more reasoning and less remembering.
"Whoever Does The Work, Does The Learning"
Teaching is not delivery or transfer. we cannot put learning in the head, but in fact we can only give it to students. We must direct, help, and motivate students to do the hard, cognitive work of their own learning. If improves responsibility, agency, efficacy.
Millenials feel its our job to teach them, and that its not their job to learn. Learning is their job. They develop the traits from recipient to active learner. From extrinsic learner to intrinsic learning.
vocational education is so skills based that youre probably putting the responsibility on the student already. However, the learning and knowledge portion should enjoy as much informative learning.
Learning based on student activity / Engagement. What work or activity did you do to come to class today?
Efforts to develop student investment.
Everything is in the service of higher level outcomes. I teach beyond the context of what you need to do a single skill
Learning should look like the outcome.
Non-negotiable compliance. Everybody plays, opting out is not a n option or choice. there are academic expectations.
Leverage a range of tools to keep learning active and up to date.
Some teachers say that teaching is not a priority. some classes are actively resisting new teaching and methods.
Pedagogy of Formation
takeaway knowledge information (remembering understanding)
skills should be improved or professional (apply, analyze, evaluate)
values should be achieved and held dear (producing quality protfolio-level work, self-worth, caring about these and willing to do this)
What the workplace wants
Looking at what workplaces want/need. You won't see remember on here anywhere. Hart research for aacu 2016. All items wanted are higher order thinking.
critical thinking and analytical reasonsing
apply knolwedge and skill to real work provlems
effective oral communication
work effectively in teams
communicate effectively in writing…
Why Best Practices?
lasting remembering.
skills development
reasoning evluation and critical thinking
increases student persistence
from static to growth mindset
NeXT Pedagogy for today's learners
improve students future orientation

Don't talk to students; talk to the professional they aspire to become

identify class goals/link to students' goals

help student understand the why/benefits fo the course
affective engagement/investments/motivation
menu of benefits. Write what you want to do for a living. Find 3 items that are important to you. add 1 that isn't on the list. Turn to your neighbor, find out what you agree on, and come to an agreement. They will talk themselves into valuing your class.
Come to the understanding of cognizance dissonance. Activity in learning allows our students to value the course and believe more.

improve student understanding of class expectations

Teach each student how to be effective, self-responsive learning

Move the learning out of class

I cannot do the work for you, but I will help you to do the work and learn the skills so that you succeed.
Any reading or remembering component can be moved out of the classroom. Any video can be created and given to students
The easiest way to get started is to just get started.

Create the necessity of preparing for and attending class

student must prepare for my class
students are mostly prepared
students can succeed without preparation
I check homework for completion
Ensuring preparation and attendance
Check student's preparation before each class. Check materials at the door, give points for preparation.
Did you know WHAT to do? Are you ABLE to do it? are you WILLING to do what it takes to be successful?
Email absent students. Anything we can do to make you successful in the classroom?
When you get to class, get them working. Guide students to the hard work of their own learning. They need to actively learn, apply analyze and evaluate, and then cover affective worthy choices. Practice effectively, and demonstrate that activity and/or procedure. They will have more understanding, especially if they see how it will effect them in the future.
At 8:00am on 11/12/19 at the Scott North Campus of Wake Technical Community College, I attended the Faculty Association Breakfast and Business Meeting presented by Kim Atkinson, Faculty Senate President and Medical Office Administration instructor, and President-Elect Brad Swearingen Associate Professor of SGD. Co-presented by Debbie Manness and John Etheridge.
As a faculty senate member, I attended this meeting to keep abreast of the topics of current interest. I am recovering from my auto collision on 10/17 and sitting  through sessions with broken ribs may be an issue.
Faculty Association has been working on:
PD hours, reducing the yearly requirement from 30hrs to 20hrs mandatory.
Pay survey:  faculty association pay >> Posts >> see feedback there
Dr. Scott Ralls, President of Wake Tech Community College, came to the faculty association meeting to listen to concerns. Minutes will be posted soon
Calendar issues abound. Go to posts >?? calendar guidelines. This will be helpful to getting faculty on board.
Summer 2020 is published, and should be out to faculty soon
WE requested

Faculty calendar completed 1 year in advance to plan vacations. Faculty has no vacation
We requested to know who finalizes the calendar
improve accuracy of labeling the calendar.
12 month faculty would like longer breaks in semesters
What is the clarification of the need of faculty after final exams. There is a hesitancy on the top level to give Deans the power to decide.

Please stay current on faculty association actions and pushes, cares and concerns.
Elections
Seats will be open in February. Seanate seats are given for 2-year terms. Open officer seats will be filled by senators with at least 1 term experience. Elections will be held in April with the results announced in may. Contact Lorri Wiliford with questions
Teaching and Learning Fund
Guidelines and applications are available on the faculty website. Deadline is April 1, 2020. It is mainly used for reimbursement of professional development.  Aisha Eskandari can be contacted if there are questions
Debbie and John: the NCCCFA Report
Debbie Manness, VP internal for the NCCCFA began with a solid message: Represent your department and division in the faculty senate. Encourage all faculty to visit, join, and take part. You can enjoy meetings via teams, etc. Debbie Manness has been a faculty association member for 20 years, and now she is a state level participant.
Faculty across the state are having trouble traveling. Our Wake Tech PD Conference is now open to any teacher with PD requests. This will be an ongoing PD Conference ability. The NCCCFA handouts are available, giving more opportunities and resources focused on teaching excellence and student success.
NCCCFA President's Report
John Etheridge, President of the NCCCFA spoke with his report. There has been a large turnover since the NCCCFA was almost shut down last year. First few months were about getting people onboard and ensuring that the cart is back on the road, monetarily, administratively, etc.
We'd like to talk about efficient money use over time.
Faculty Salaries are not addressed into its "legislative priority". It is up to the discretion of the college president how much you will get paid.
"What is the NCCCFA doing about salaries?" You are not a state employee, you are a college employee, and you will get paid based on the presidents choice. the 2019 workforce development legislative agenda has several bullet points (talking points). They are not currently addressed.
We would like lawmakers to ask the NCCCFA when addressing concerns for college faculties.
"What about Dues?" We'd like dues to be passed back to teachers through a reimbursement process similar to the faculty association's current set. We're also hoping to include monies for online PD availability to faculty across the state.
We can we do better, and how can faculty get involved?
First, get involved. We had a good reputation in the past, and we'd like to leverage that again. we'd like to gain visibility by being present in the legislature. We need folks in committees, we need people involved in the NCCCFA so that officer roles will get filled.
Get in touch with your legislator. They will listen to constituents over faceless organizations. Talk about what is going on in the college. School teachers have vast resources, with paid people who only work for better deals. The NCCCFA president has a single courses load reduction, and no other officers have any.
"Can we get a copy of the 2019 Workforce Legislative Agenda?" Yes, we'll put it on the Faculty Association website.
On 4/17/19 at 11:00am, I attended the Wake Technical Community College Spring Professional Development Conference Session: Be A Digital Disruptor with FFC and IT Services. This was presented by Ryan Schwiebert, Benita Budd, Neal Stidham, Tracy Naleway, and Monique Williamson of Wake Technical Community College
Be A Digital Disruptor with FFC and IT Services
We began with a brief educational game getting to know one another in the group and finding the close connections with teaching and campuses. it was pretty fun, but there were several of us in here, so it took a minute.
Technology has significantly changed the way we interact with our world!
Students interact differently!
U.S. smartphone users grew to more than 230 million in 2018 (that is about 70% of the population) (Statista)
20% of households with an annual income less than $30k have smartphones without any other type of broadband. (Pew Research)
Wake County has set a goal to increase the availability affordable high-speed connectivity county wide. (County Commissioners)
Ubiquitous campus wi-fi connectivity is EXPECTED by students! (Based on student surveys)
Student technology expectations have increased
Every student in Wake County Public Schools is provided a computer for course work.
Students want to interact and collaborate through technology tools
Students are accustomed to receiving constant feedback. 24/7!
We have take some steps to address growing expectations:
Wake Tech Online is the largest "campus" with 9,867 students in spring 2017 (8,123 students enrolled at Main Campus)
We have several programs completely online Associate 16, Diploma 3, and Certificate 76
We have also improved connectivity on campus.
This transformative technology movement is known as DIGITAL TRANSFORMATION
To be successful, our institution must begin evaluating our business processes and changing/adapting them to the digital world.
DISRUPTION IS POSSIBLE: If we do not meet this challenge, others will.
Why is this important?
Consider other industries that have changed:
Internet->Travel Agents
Napster->Music Industry
Amazon-> Retail Industry
Netflix -> Video Rentals
Streaming Services -> Broadcast Television
Taxi -> Uber (The largest taxi service in the world/owns no vehicles)
Hotel -> AirBNB (The largest lodging service/owns no real estate)
Most recently:
Google introduced cloud training certificate programs – for programmers and anyone interested
Amazon's released 'Machine Learning University' – available to all developers
Gartner identified Higher Education as a growth sector for technology usage.
The first to successfully achieve this will become market leaders.
Today we are hear to explore how might we adapt to ensure our industry is not disrupted.
Lets explore the benefits of digital transformation
Enhanced Competiveness
Competition for students has increased in Higher Ed. If we don't attract students, we will see declining enrollments.
For profit institutions have increased dramatically.
We compete with other public institutions.
Higher Enrollments
It has become difficult to maintain enrollment growth.
Public funding for higher education is shrinking.
We are continually asked to do more with less.
WE should entice the students to come
Better Student Experience
The customer experience is often stressed in business/time for Higher Ed. to embrace
Student needs and expectations should be a priority
Students have a lot of choices!
A new focus on future employability.
Technology Works Together
Technology and college processes should work together seamlessly.
We should not expect the student to conform to an antiquated process.
Technology should be easily accessed and interacted with
This was adapted from an article recently published by Educause. Have a look at this article and several others they have. read, attend online seminars and embrace this.
Establishing a digital foundation
Pilot with interactive displays in the classrooms (mostly south campus, a few at North). THis iss a collaboration with faculty, staff and ITS
Conference Room Upgrades. WE are lagging behind. Through teams and conferences we shouldn't have to campus travel.
Wi-fi Upgrades. We moved away from old systems to Arube systems and we monitor this. Often this is when students congregate. we are asking students to spread out, but we're looking to upgrade and work with this. We are looking to update to outdoors and parking locations. Once you're connected on campus, we'd like you to continue to be connected.
New network infrastructure. We've upgraded on all campuses, and are upgrading the fibre connections. We have an achilles heel- if southern campus is down, all campuses are down. RTP is redundant and independent. Soon others will also be seperated. If a fibre should be separated, all will be fine
New network infrastructure. We're focusing more on efficiency and optimization: In the traditional mode, processes should be agile. if the IT items do not work all the time, we have problems. we're experimenting and dealing with uncertainty. This will mean an acceptance of failure but still have standards.
The future growth of Wake Tech depends on our ability to adapt.
Now is the time to explore new ways of using technology.
We are looking to faculty to help identify those opportunities
Experimentation allows us to determine new and effective ways of teaching
This supports the applied benchmarking concept of continual improvement.
Technology can provide alternative learning methods
We need to test the effectiveness of these methods to see if they should be implemented collegewide.
Proper use of technology will put students at the center of the learning process.
Students are the reason we are here!
By enhancing faculty teaching methods, learning can be improved.
Faculty expertise is pivotal to ensuring success.
We have spent the past 3 years establishing our foundation
Think Maslow's hierarchy for technology
Ryan's hierarchy of technology needs!
Here are some of the highlights!
Interactive Displays
Currently piloting interactive displays for classroom and meeting use.
A standard will be developed based on faculty and staff feedback.
Conference Room Upgrades
Our goal is to simplify these spaces to make it easier for everyone to use.
Providing more tools for collaboration/communication
Also implementing Microsoft Teams for web meetings
Hoping to reduce campus travel.
Wi-Fi Upgrades
Wireless access was a hot button issue for students.
We completed the upgrade college wide
We are continually adding additional access points.
Plans are underway to add wi-fi connectivity to outside spaces
New Network Infrastructure
We have redesigned our network infrastructure to reduce single points of failure
The intent is to increase resiliency and redundancy
Each campus will be independently connected to the Internet
We will also be upgrading fiber between buildings and upgrading old wiring.
Our challenge is to continue operations as we innovate and experiment!
In a traditional mode:
Rigid processes
More governance
Low failure acceptance
In contrast innovation requires an agile mode:
High acceptance of failure
Some governance
Open Processes
To address this at Wake Tech, ITS has adopted a Bi-Modal IT leadership structure.
Mode 1 is the operational portion.
Mode 2 is the strategy and innovation.
The two must still work together.
New innovations are tested in an agile mode.
If accepted/successful they are eventually shifted to traditional operation.
Collaboration is at the cornerstone of any great organization.
So, lets work together to improve technology adoption college wide!
ITS will serve as
your partner and technology expert
Faculty and staff input and involvement is welcome
IT needs you to be our partner
serve as classroom and teaching experts.
We want to be a technology leader in higher education. IT will focus on technology solutions that benefit student learning. IT needs a seat at the table, early and often.
Think of ITS when working on new ideas!
As you can see, a lot of work as gone into preparing for our digital transformation journey. Now that the foundation has been established, we are ready to explore new technology opportunities in the classroom.  We need your input because the possibilities are endless!
Poll Title: What tools do you prefer to use when teaching online or in the classroom? You can vote on the preferences submitted.
https://www.polleverywhere.com/discourses/uyJLkTMjCWUDNrDkZQloe
Poll answers were as follows:
Cellphones – 4 (looking up words, fact checking, who's going to look this up?)
teams – 3 (videos, small groups, want to use this…)
ipads – 3 (apple TV and ipad instead of flipping back and forth- crossplatform presenations- you could eliminate screens to give everyone a device)
ppt – 3
remind.com – 2
kahoot – 2
flipgrid – 2
tablets in lab
Poll Title: What benefits will faculty gain from digital transformation at Wake Tech?
https://www.polleverywhere.com/free_text_polls/ChvpPtbrqZuij0gWzOU24
Poll Answers were as follows:
Remind.com
yammer
teams
online lecture and video for online classes
flipgrid
Teams
Teams is a collaboration tool. Most people use it extensively. Its a collaboration tool like skype and video recording. Zoom is very similar. Teams uses filesharing as well. Is this like slack? it is like slack, but does more.
Interactive Displays
The technology has come a long way. Some classroom have it. Its a Wake Tech PC back there. You'll see this more
LAN school
You can take student screens, interact with single or multiple students in classes, and will be coming in the future.
Lynda.com
Lynda.com is a flood of information and easy to follow. This has good PD credits opportunities and students also have access to this
Gartner.com
Gartner.com is another great site from http://go.waketech.edu. They are unbiased information sources. This takes you behind the firewall, and gives you access to all the data. This is great for research, and its available to students as well.
As you can see, a lot of work as gone into preparing for our digital transformation journey. Now that the foundation has been established, we are ready to explore new technology opportunities in the classroom.  We need your input because the possibilities are endless!
Question and Answer Section
Q: labs in the class need assistance sharing information. How can he share data in the class?
A: Off the top of Tracey's head- the answer will be teams. Add in items on teams and display that using teams.
Our Next Mission
Recruit other agents to room 149, and test out the materials. walk through some of the tools and items you've seen here. The first place winner won a small prize. A second prize was given out to a participant who offered to hold their fee to the fire.
I think this went along very well, and everybody seemed engaged. Well done!
On 3/15/19 at 12:00pm, I attended the Professional Development Session RISE Training at the Engineering and Technology Building (SE 226) at Wake Technical Community College's South Campus in Raleigh, NC presented by Scarlet Edwards.

RISE Training
We learned about the new RISE initiative across the state of North Carolina. Scarlet Edwards will be teaching us. RISE is critical for fall advising. This is a mandatory meeting for Matt Henry's team, and they were nice enough to allow me to join this professional development training.
Completion Percentages: A Clear Look
One of the important things that we looked at was a clear graph outlining the completion percentages for students attempting college level Math and English in the first two years of college. The two courses were not significantly different, so we're looking at the math numbers here. While numbers are increasing as time moves forward and we are offering more online classes in these, numbers of actual completions are still low. However, statistics show that students who complete these gateway courses achieve degrees.
It should be noted that 2014-2015 is when the multiple measure model was begun.
The college would like to see more students completing English and Math "Gateway" courses in the first two years. Many students are holding off on these courses, and then failing them so many times that they fail to achieve a college degree, or are forced to complete their AAS degree at another institution- we do all the work toward great training, and another school achieves our completion. We'd like to stop that.
By "Encouraging" our students to take these courses before other standard curriculum courses for our degrees, we will ultimately see more completions and student successes.
Instead of offering testing for students, a new system will place new students into classes automatically, and we should encourage our students to take these classes first.
A Healthy Debate
At this point in the discussion, there was a very healthy debate which erupted. Many faculty members voiced their opinions before everyone was encouraged to save questions to the end. This training is mandatory, and it is very important that every person has a chance to hear the information. I held my questions for the end, but the following points were made very clear:
One faculty member has been teaching for 30 years. They noted that ENG and MAT courses are important, but the job skills are more important. Pushing off things that you like (technology training) for things which you don't like (math problems and english papers) will encourage more students to quit early rather than late.
Another faculty member noted that we would have more completers in the programs if we could have pre-degree requirements like the nursing program has. They have a 100% completion and 100% job-placement rating because they are able to cherry pick the best students before they begin. If we had this ability, we'd have no problems
A faculty member suggested that if we could expand our program to a 3 year degree program we could solve many of these problems.
Another faculty member stated that since neither Math nor English were Pre-requirements or Co-requirements for any classes within their program, there was no impetus to push this agenda. As student could get perfectly far in the program without facing any barriers to success.
Another faculty member noted that students who fail in a majority of the intro classes do so because the ESL (english as a second language) and EFL (english as a foreign language) students have passed ENG111, but still cannot read or communicate well. Those students have already met these requirements and already are on a road to failure. This program should start with ESL and EFL and then evaluate success before putting this to all faculty
One faculty member with over 20 years teaching noted that this system has not worked in the past and would not work. This was heavily agreed upon across the room, but since we hadn't really heard the proposal yet, I thought this point was moot.
One faculty member was quite vocal that programming required a mathematical mindset, but did not require intense calculations. Taking the math class before buckling down toward making some headway in their degree would not help the student, but might detract them from any of the material.
One faculty member who had to take the gateway college algebra math class recently noted that the course was set up in such a way that unless you had taken the course before, your chances of completing it satisfactorily was nearly impossible. Unless, they noted you had already known the material of the course. It was set up so that those who knew the material would pass first time through, but those without intimate knowledge of it could be "thrown to the wolves".
Eventually, order was restored with the interest of finishing in time. I took notes on my questions.
NC Math Completions
These numbers on this slide were disturbing. One faculty member let us know that they told us the class was an issue, many people smiled politely. Based on population numbers, only 7% of African-Americans, 10% of Hispanics, Latinos, and Asians, and 14% of Caucasians pass a gateway level math course within 2 years of enrollment.
Lets take a look at the numbers for these specifically
Gateway English Completions
Looking at other states, we see that there are similar numbers based on gateway courses. We see there are 2 specific options noted here: Gateway courses which require a pre-requisite class or classes, and Gateway courses which require a co-requisite class. In North Carolina, we require pre-requisite classes to determine whether students are ready or prepared for English and Math. We double-check this with compass testing.
Looking to other states, we see that several of them are using a similar system. Some have better numbers, others are below ours. These states, however, have seen a large increase and jump in completions based on the change from pre-req courses to co-req courses.
By adding in a secondary class— a co-requisite class— the states have found that they were able to dramatically increase the number of course completions. Some say that because students are able to continue working on ideas and concepts outside of class time.
Gateway Math Completions
Again, we see the schools have very similar numbers to ours above. Again, when introducing the co-requisite courses, completions dramatically increase. These co-requisite classes are a bit like labs for science courses, or labs similar to language courses.
Question: Are these results accurate, or are they patting themselves on the back?
Answer: Good question. Our team visited schools in these states. They asked these same questions, and yes, these are the results they are seeing by the numbers.
What Is Rise
RISE is the program in North Carolina which we will use to achieve a similar system. Durham Technical Community College is already using this system in North Carolina. We will be taking this system up in Fall 2019. We will use this information to help us advise our students and to get to know the system completely.
It is important to note that this system will be put in place to get our students into the English and Math Gateway classes sooner. Students who complete these classes in the first two years seem numerically to have greater success and completions.
Question: What if we find that students placed in these courses are not achieving these results?
Answer: Our intent with the RISE system is not to increase the passing rate. We are just using this system to allow students to get access sooner and receive concurrent support at the right time for the students.
How Will Students Be Placed?
Compass testing was an easy requirement, but not every student tested well. And, the compass test will be going away. Moving forward, we will be using a new system based primarily on high school GPA. Based on a high school GPA, students will be placed in a column which will determine where students will start: Specifically, will a student be able to enter the gateway course directly, will they be required to take BOTH the gateway course and a co-requisite course, or will they need to take a transitional course?
GPA is the main determinate, but we can also see that testing scores on the ACT will also be taken into account. If students have scored well on the ACT score (within 2 points of the Target Score) of the particular category. Poor grades can be augmented by good test scores.
High School GPA is good for 10 years. If the result is over 10 years old, or not available, the student can pay to take the test for placement.
RISE Placement Credits
In the new system, all of our pre-curriculum classes and requirements go away. Based on the high school GPA, students will receive some or all credits for transition courses.
STAC Screen Need
Currently, we'll need to use the STAC screen to see the credits given, as well as GPA and ACT scores. It was important to remember that the RISE system will not be in effect until the fall. Eventually, we will have a new screen called "XRISE" which will give use the right information.
Question: Is the ACT really this prevalent?
Answer: Yes, most schools use it now or encourage it. If a student does not have it, we may have SAT options available later, but just place them appropriately.
RISE Placement
DAP Accuplacer is going away December 31st, if not before. Retaking the placement test is not allowed if you have high school GPA within 10yrs. Taking the test will cost the student money, and may take 5 hours. There are 3 sections of math (mastery tier 1,2,3) and 2 sections of english (mastery tier 1,2).
Placement Test Q&A
In looking at the placement test Q&A, we ran into some questions about the placement testing. I'll add them here:
Question: What if the student hasn't received their official high school transcripts?
Answer: We can use an unofficial transcript to determine these courses.
Question: What if we have an army vet who joins and they don't have a record?
Question: What if we have a student who school burned down/no longer exists/home schooled without GPA?
Answer: It happens. They'll have to take the placement test and pay the fee. Some vets have been in the service so long that they have no GPA and have not undertaken any education, they take the test. Some old schools had paper records, and suffered a calamity or are no longer around, especially private institutions. Those students would take the test. Some home school students simply were not given grades. They also take the test.
Co-Requisite Class Debate
At this time, there was another very lively debate. Many people had some loud and angry opinions. When the information was presented, it was given to us a very straightforward manner. This matter-of-fact information was clearly noted in an effort as if the presenter was trying to gloss over information. Eventually, the facilitator and the group head got people calmed down enough to continue. Concerns included:
One teacher with 20 years of experience who noted that this system would still never work
One teacher with 30 years of experience loudly noted that this would be impossible to keep track of
One teacher noted that some students would possibly be facing 9 hours just for math with a co-req, and 15 hours for math and english courses and their co-requisites. How will a student be able to start their education if they are taking 15 credit hours in the first semester?
After calming down, we settled on a few related questions.
Q&A Session
Question: Will the co-req grade count towards the GPA?
Answer: Yes, since it has credit hours, it will count towards student GPA
Question: How will the co-req count toward our degree credit numbers?
Answer: It will not be marked as a requirement. Students who are required to take it will have to do so.
Question: What if a student fails the co-req but passes the gateway class? What if they pass the co-req but fail the gateway class? What if they're withdrawn from the pre-req class?
Answer: We'll be talking about this later, but if a student fails the co-req class, they will be automatically dropped from the gateway course. However, if it comes down to the end of the course and the student passes the gateway course, they will still retain credit. If it comes down to the wire and the co-req is passed, the student will be able to take the gateway course a second time.
Question: What if the student chooses not to sign up for the co-req?
Answer: The co-req and the class will have to be signed up for together. They will be taught by different instructors. To sign up for one, the student must sign up for the other.
Question: What if the student stops going to the co-req class?
Answer: If a student is withdrawn from the co-req class for any reason, they will be automatically withdrawn from the gateway class.
Question: What if a student signs up for a co-req gateway because it fits their schedule. They are not required to take the co-req class.
Answer: Yes, that is true, but if they drop or withdraw from the co-req, they will be withdrawn from the gateway course. Students can opt-in to take the co-req but they're under the same course requirements as other students. In for a penny, in for a pound.
Gateway Transition Courses
Developmental classes will go away at the end of the summer. Since there is really only a single ENG111 transitional course now, any students in remedial programs should endeavour to take RED097 to get themselves to the ENG111 course. There are several transition courses for math, because there are several gateway math courses. In some cases, this can be very helpful, because any math class can be used for our degrees.
Pedagogically speaking, a better option in some cases might be for students to sign up for the gateway w/co-req on purpose.
RISE Placement
Just a recap: the DAP Accuplacer is going away December 31st, if not before. Retaking the placement test is not allowed if you have high school GPA within 10yrs. Taking the test will cost the student money, and may take 5 hours. There are 3 sections of math (mastery tier 1,2,3) and 2 sections of english (mastery tier 1,2).
Advising Consideration
Students taking these classes will not have the same teacher for the gateway course and the co-req course. The gateway course teacher can take the grade of the co-req into account when deciding on a final grade for the course.
Healthy Debate #3
At the question about this, faculty had some very strong opinions
One faculty member asked to know what the criteria which could be taken into account might be?
Answer: It is up to the teacher. They can take anything into account. Assignments, attendance, final grade, class participation, its all up to the teacher
One faculty member said that this sounded totally subjective, and some faculty members can take it into account and others would not?
Answer: Well, it is up to the teacher to decide
If students ask the teacher and the teacher says "They will not take any other classes into account" can they change their minds?"
Answer: Yes, it will be up to the teacher to decide
If the student no longer wishes to be in the class or co-req because the teacher is colluding with the gateway teacher, or vice versa, how will that effect them?
Answer: leaving either class will put them in a new course and new co-req— the classes are linked. This wouldn't be  good idea though, the new teacher may decide to take the grades into account and you're right back where you started
So, if a student is getting an A in the gateway course, fully participates, and is leading the class, they could still fail or get a b,c,d,f in the class… totally at the teacher's discretion
Answer: Yes, the teacher can take the other class into account. If the student is not participating in the co-req classes, the gateway teacher could adjust the grade at their discretion.
Don't you think this might cause a lawsuit? An A-level student can be failed or dropped massively because while they are attending all classes, the co-req teacher might feel a "D" is earned in one class and should be pushed into the other?
Answer: Its possible, but they probably wouldn't. But they could.
This seemed like it was going to be a problem. There is no official policy, its just teacher-decided material. Looks like it could be misused, abused, taken incorrectly, etc. The school is going to be on the wrong side of this.
Optional Examples
Take a look at each of these examples and see where they should be placed!
Example 1: Kim
Because Kim has a 2.8 GPA or higher, she can go directly into a Gateway course.
Example 2: John
John will need to take transitional math courses, unless he can complete up to MAT050 this summer. I'd advise John to track down his 2011 high school transcript (clearly not present), and to take ENG097 this summer if his GPA was 2.2 or less. This would get him into the ENG co-req in a single session.
Example 3: Brandy
Brandy can go directly into the MAT121 Gateway because while her GPA is less than 2.8, she has an ACT math score which is high enough. She can take the gateway course over the summer, or better still, just take a break. She'll have to co-req ENG111.
Example 4: Wheaton
Wheaton is good to go with no co-req due to high GPA and ACT scores, if the ACT was in 2008. Otherwise he'll have to take the 5-hour placement test. Wheaton looks super-duper young to be in his 30s. I think this was a plant.
Example 5: Amy
Amy has too low of a GPA to go into any gateway courses alone, but she has a high enough ACT in Math to get a co-req course. She's applying for the spring, so if she can take MAT020 this summer, she can get into MAT110 in the fall. Similarly, if she can take DRE097 this summer, she can get a co-req english course.
Example 6: Pete
Pete can take MAT121 in the fall with a co-req. He's got credit for the high level maths, so if pete can finish MAT010-050 this summer, he can skip the co-req. Instead, he should take DRE097 this summer and get into the co-req for english.
Example 7: Chasity

Chasity is looking at a co-req with math, but I don't know the SAT scores… If she can complete DRE097, she can take the co-req with english in the spring.
EXAMPLE 8: Julian
Julian can take DMA040-050 and not worry about co-reqs, and eng with a co-req in the fall.
Example 9: Sarah
Sarah should take DMA050 this summer and DRE098 if she can. This will save her extra hours and cost
I felt this was good training, but I already had a leg up on most people. I worry that summer school numbers of courses offered will go down. There will be courses offered, but there will need to be a far larger number of ENG faculty on campus, and that means more rooms.
Since our departments do not really require these ENG classes or MAT courses as pre-reqs for our programs, there is not an intrinsic need for us to push these classes sooner. It actually seems to work contrary to our purposes to push these classes at the beginning, and instead better to shove them off onto the summer courses. I worry about the "taking in to account" vagaries in the language, and see a pretty hefty lawsuit. If one student sues, another just has to "think" that the work is biased in some fashion to have a legitimate case. Once a student wins, every student who was under the policy could have legal grounds for changes to transcripts, and compensation if their grades were not good enough to transfer to their college of choice.
Dangerous.
On 2/23/19 at 10:15am, I attended the North Carolina Community College Fine Arts Conference Session How To Teach Graphic Design Online at the Meroney Theater in Salisbury, NC presented by Alison Consol and Julie Evans of Wake Technical Community College
Online teaching requires a different approach to bring in students and create the kind of t=virtual communities to help create a strong cornerstone of community and a presence which could be maintained in the course. You will have to anticipat the questions before they happen, because "writing is the new coding". YOu need to have as much instruction and examples that you can to inspire but not allow materials to be copied. Students and millenials want the immediate feedback, timely materials in the gradebook, and discussions should be meaningful and relevant. Attendance can be difficult, so setting attendance to project deadlines is the easiestt way to accomplish this.
There are 452 active students at WTCC in the GRD program. Students take online and seated classes, although some are wholly online. How can we create a class which guarantees as similar or analog class online.
Certifications
Graduates in the program at WTCC earn 5 certifications as they complete the degree. These certificates allow students to be motivated to continue in the classes, and be used as an advising tool These certifications are a nice way to keep students moving forward, but it also allows students from different degrees and those working in the field to step forward and take part. Over time, we see the rates of graduation and completions rates getting higher. Depending on the amount of time it takes a student to move forward, these certifications allow student numbers to maintain a level of completions which is asy to push forward to the next certification and stay motivates.
EPIC
As part of our QEP program, all students have a mandatory E Learning Intro course. A student must complete this class before they can register for online courses. Students come to class with LMS learning, assignment materials standards, etc. so this is very helpful. EPIC removes barriers where every course maintains a similar look and feel, and EPIC allows teachers to get up to date.
The Human Element
We include welcome and weekly videos. We use ZOOM to assist with the idea of the teachers presence. The need to know who their teacher is and how to contact them. It seems like an increased distance in the online classes. We have a youtube channel for the department. These weekly videos are all conglomorated in the same place. Having this repository is easy to use, and can be pulled as needed from their classes.
Required Supplies
Checklist Documentation is added to classes to keep information on the forefront. Art supplies, software, digital cameras, hardware, reliable high speed internet, etc. Having those supplies in the bookstore allows students with financial aid to get it day one. We keep 2 chapters in PDF form in each class, so that students without books can get up to speed. Hardware is a student priority and concern. We have opportunities on campus. If the student isn't prepared, we have to have a meeting.
Attendance
Structure is important, and offers consistency. Assignments are presented in a linear fashion. Failing to complete all tasks result in a tardy. Completing everything by deadline is full attendance. Missing the assignment results in an absence.
Structure
Welcome in week 1, tasks for the week, lecture materials, discussions, and finally assignments with examples. People cannot follow long pages of text, so including materials in a consistent fashion makes it easy for people to know where to go and what to do. We use icons and avatars to chunk materials and keep the visual presence for students.
Student Collaboration Online
WIkis, journals, google docs, forms and surveys, flipgrid, voicethread. There are lots of different ways to create the community and allow students to introduce and respond to one another. We use peer review such as behance, flickr, wordpress blogs and personal websites. Students need constructive criticism and they need to develop the thick skins which can easily allows students to improve and be ready for the workforce. Discussion topics are great for shared experiences and group projects. Use testing like DISC assessments or Myers-Briggs testing to find out their types.
Web-Based Tools
Starfish is a nice way to alert students if they are in danger of failing. An ILC on your campus is a great resource. Compututor is a fantastic resource for our online students with texting, screensharing, and email.
REMIND.COM is a great resource. Social media is also a fine way to keep everyone on track, allows people to interact and network. We encourage them to use the student social media for professional purposes only. We use ZOOM to interact with students, and adobe SPARK is making a great deal of use.
How about the design process?
Original work only, plagiarism agreements, sketching, and feedback are part of every procject process. We have an assignment area and discussion board. This allows students to show to the instructor as well as the class. Finalization in situ is part of each process.
Portfolio online
Its a beast. As the culmination of their work, students have to begin with a single idea. and think about how the end user will interact with thier materials.
Assessments
Grades are based on PERFORMANCE. WIP, reflection and peer review in discussion boards allow students to get feedback. Inline commenting in blackboard with rubrics allow for stronger content. BLogs and reflective journals for self-assessments.
Good Rubrics
Begin with a set of best choices. Drill down from there to create a general rubric for creative projects that you can use as a go-to. Showcase this early and allow the students to see this rubric. THey'll know what theyll be graded on and how.
Portfolio is a high-touch environment. Allowing online students to attend seated courses is a fine method for assisting students. Online meetings are great, and full size print.
Summary
An online class should be enjoyed. Its a journey, and we have to show that we are there and we can assist them become successful. We give visual attention via video and video meetings, but its a constant improvement model. Having a set of standards are especially helpful to us.
Q&A Session
How do you handle group video meetings? It creates community, but what about those who do not wish to meet.
Zoom is used, and it records the session. If you don't want in, no harm no foul. Its recorded and you can watch it the next day. Pop it on your account and its ready.
Do students know they might have to have the meeting?
The ELI course says that you may have to attend on-campus testing or use recording to meet the needs of the class.
What about students who cannot visit?
We work with them to mail materials.
Has online impacted seated?
Some classes have removed entirely to online. Online students are a different population. It impacts enrollment, but it is really about convenience. Some population will only work partly with online classes. Online students also come from out of city and out of state. Completion has actually increased because they have time management issues, and having access to one online class allows them to continue on their course.
On 4/18/16 at 10:30am, I attended the Online Learning Consortium Conference Session Commuity College Summit—StoryTelling and Growing Expert Instructors online session, NC co-presented by Nicolette van der Lee of Hawaii Maui College, Maria Fieth of CSU-MERLOT, and Brenda M. Perea, Director of Educational and Workforce Strategies at Credly

Community College Summit – StoryTelling and Growing Expert Instructors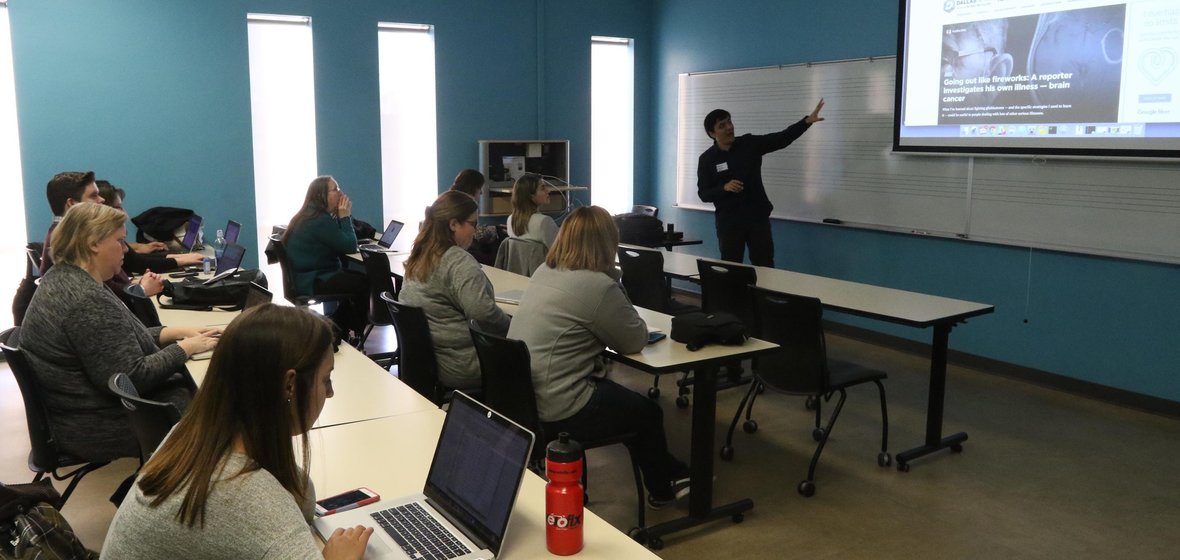 StoryTelling and Growing Expert Instructors
Community colleges face many challenges and we will address two distinct and persistent ones:
First, communicating the power of educational innovations takes more than a 30 page report – it takes a good story that engages your audience and gets them to care about your innovation.  How do we craft good stories for career and technical training programs?
Second, industry experts are essential subject matter experts that deliver the "job-driven" curriculum in community colleges and prepares our students for success in the workforce.  But frequently, being an industry expert doesn't translate into an expert instructor.
The U.S. Department of Labor's SkillsCommons project has produced free and open tools, templates, and strategies that everyone can use to address these challenges. In this session, we will briefly review the strategies and resources, and walk through how these two tools have been applied in higher education and at the industry level.
Collaborative Ideation Challenges
At this point, the presenters had us use the chat tool to discuss one of the topics. This was a bit awkward, as several different conversations were happening at once and I do not type very fast. Some conversations were very animated, others were not responded to quickly enough, and got pushed offscreen. After finding some posts to answer to by scrolling up to find them, and typing slowly, the conversation was actually gone already. It was a little chaotic, and probably worked better in a seated session.
The presenting panel asked participants to consider and choose one of the two challenges, and to explore the SkillsCommons resources on their own devices, giving out the URL for us to explore on our own. They then began a short discussion on how to deliver the right tools, at the right time to faculty and staff to successfully overcome the challenges and increase collaboration across their participants institution.
How do we craft good stories for career and technical training programs?
I'll try to sum up the communications which were happening about these conversations here:
Communicating the power of educational innovations is tough. Usually this is handed down to us in a slick sheet— this is a graphic design term for a single-page description of a new, exciting item. It isn't an in-depth tutorial. These sheets try to sell the sexiness of the product without a major focus on the practical methods.
As an instructor, we really have a dual role: We have to educate the class, but we have to capture their imaginations and impress upon them how these tools we are teaching are essential OR at least will help you in a successful career. In many cases, we have to walk a fine line: We have to explain as much as possible in an effort to clearly make the use and practicality know, but we also have to motivate students to learn to do this on their own, capturing their imaginations and encouraging them to discover the materials on their own.
We love stories of practical experience where things go very right, and stories were things go very wrong, and times when we pulled a project back from the brink.
being an industry expert doesn't translate into being an expert instructor.
I'll try to sum up the communications which were happening about these conversations here:
Many community college instructors (most really, and I know because I'm one of them) are lateral-entry. Specifically, this means that we enter teaching from a job in the field, rather than entering teaching directly from school. What makes us into good instructors— lets leave behind the idea of expert just for a moment.
Coming from the workplace, we're used to business communications where we're speaking to a group of industry experts and workers: the vocabulary is known, the audience is clear, and vision is pinpoint, and everyone is working toward a similar if not the same goal: profitability. There is no need to talk basic concepts, no need to discuss fundamentals, no need to check anyone's work. Poor performers are corrected and/or let go, and new workers are chosen because they are the best of the pool. In most community colleges, there is no barrier for entry: anyone can enter without many basic skills in reading, writing or mathematics, etc. Basic communication skills or a determination to complete are not required to take a course. If you're working in a marketing firm, you're not expected to have to reread every single proposal for spelling and grammatical errors, or determining whether or not the addition of charges adds up— these come with the territory. Without the realization of change being needed, many lateral entry teachers end up being coached, and they can find that to be demoralizing and offputting, detrimental to their careers.
Many lateral entry employees give their talks and discussions in matter-of-fact ways, and this doesn't really capture the hearts and minds of our student populations. However, when sharing the stories of the client that just wouldn't quit, the big budget issues, the project which was saved by spellchecking, the employee who was fired for procrastination, etc., students are very quickly entranced. Sharing your experiences and stories can really give extra emphasis to the materials you are bringing to bear in the classroom.
Coming from an academic-only environment, many instructors also feel that they are dealing with students similar to those they've left behind- interested, motivated students with a clear goal in mind. Unfortunately, not all students are motivated, have goals, interested in their education, or directed. Some students need direction, goals, and commiseration. Stories relating the teacher's experience to theirs can be really helpful and creating the connections, but stories are great for adding direction. Many students find that they "get by". They "got by" in high school, jobs, etc., but now they are in college and they are not "getting by" anymore. Experience is a great teacher, but demonstration alongside a story of how large obstacles can be overtaken is even better.
If education-based teachers focused on how they were able to complete, there would be a far greater emphasis on motivation. A teacher who discusses how their student group was formed and then split into categories might help others to do so. A teacher who tells that they "stayed up so many nights working from 8pm to the wee hours of the morning that their neighbors knew if the lights in her house were out… then the neighbors needed to go to bed too!" might encourage students to give that ongoing, continuous effort that really brings things together. Discussing how one teacher breaks down an assignment to research and write a paper can be helpful to a whole population. Share your knowledge!
Challenge Questions:
In why ways would storytelling benefit your college's initiatives?
What is the first story that needs to be told and to whom?
Imagine your college implemented the IE2EI course with industry experts. After one year, what are the targeted outcomes. How do you celebrate?
What did you hear today that you could use in the next 3 months. What are the first 3 steps toward making that a reality?
These questions were nice, but the answers were really ones which should come from within. Of course, the chat exploded, and the presenters hit on major talking points.
Scheming Time, Applying StoryTelling and Expert Teaching in Your Setting
Panelists showcased an example of selecting one story and discussing it. It was a math example for real-life situations about the size of a fence perimeter. They then showed one module from the IE2EI course and the audience was asked if they had considered something like it. This was helpful to many but had little relevance to me, because we do something similar but a bit more advanced at Wake Technical Community College.
Wrap-Up and Summary
There was a minor Question and Answer session. Relative to SkillsCommons IMPACTcommunities Panel, there were few questions. Most participants did not want to leave the session to view the materials. The co-presenters all ended with a brief summary of highlights and resources from each of their perspectives.
Presenters
Lead Presenter: Nicolette van der Lee, University of Hawaii Maui College
Nicolette van der Lee is a Program Coordinator at the Office of Continuing Education & Training for workforce, sustainability and contract training programs at University of Hawaii Maui College. Through the Sustainable Living Institute of Maui, she coordinates non-credit based community outreach and development activities in sustainability across disciplines including clean energy, sustainable agriculture, natural resource management, waste reduction, smart sustainable communities, and green workforce and education. She is also a StoryTelling Ambassador for the StoryTelling Network at SkillsCommons, supporting community colleges to share solutions addressing the challenges of offering industry-aligned education and job-driven workforce development. Her current doctoral research at Johns Hopkins University focuses on the sustainability of innovations, and developing strategies to build social networks, successfully engage stakeholders, and achieve sustainable outcomes in higher education.
Co-presenter: Maria Fieth, MERLOT
Maria Fieth, M.A.2, RTC. Maria currently serves as program manager responsible for communications and community building for CSU-MERLOT SkillsCommons. During the last 26 years, Maria has worked with businesses and PK-20 educators providing guidance for refining and sustaining healthy learning and working environments and building partnerships and community among stakeholders. Maria's background in federally funded project management provides a strong backdrop for national level accountability and performance. Her work has received honors for building exemplary educational settings and community partnerships from Kevin Jennings of the U.S. Department of Education and Auburn University among others. Maria holds a dual Master's degree in English and in Education, a Master's degree in Psychodynamics and certifications in Reality Therapy and from the National Institute for School Leadership. She has numerous certifications as national trainer for organizations such as Ruby Payne's Poverty Framework, Olweus Bullying Prevention, Discovery Communication Model, and Crucial Conversations. She and her husband, Andy, have three grown sons, a lovely daughter in-law, and one beautiful grandbaby.
Co-presenter: Brenda Perea, Credly Inc. & SkillsCommons
Brenda M. Perea, Director of Educational and Workforce Strategies at Credly, brings twenty-five years of experience spanning secondary, postsecondary and workforce educational fields to help learners identify and target workforce skills not apparent in traditional credentials. She successfully led CCCS to implement a system-wide badge initiative. She believes identifying competencies is critical to establish career and educational pathways in conjunction with business and industry to ensure to post-secondary education and career training is relevant for today's workforce. She works with the international Open Recognition Alliance and IMS Global to shape the national conversation on recognizing learning where it happens, industry and business engagement in post-secondary education and workforce credentialing. Brenda is also a SkillsCommons community Ambassador whose mission is create affordable innovations in workforce education and workforce development programs to be easily and widely adopted and adapted by teachers, learners, industries, and professional organizations. Brenda also speaks nationally on open educational resources, data analytics improving student success and digital badges.
On 11/9/17 at 11:00am, I presented at the Wake Technical Community College Fall Professional Development Conference at the Session Gamification In The Classroom in the Engineering Technology Building in Raleigh, NC. This was co-presented by Tyler Dockery and Nicolas D'Agata of Wake Technical Community College
Gamification In The Classroom
In this presentation, we will cover 4 basic topics:
Some Background
This presentation is part of a grant we ran in 2014, discussing the reason behind what we did, the lessons we learned, and how you might be able to integrate these ideas in your classroom. This grant was proposed and monies set aside to train and develop gamified systems in low-performing courses in the WEB curriculum model. In this first part, we will discuss some of these results.
When Things Go Poorly
So, here we see a picture of one of my classes which was gamified, my 2014 class, WEB140 Web Development Tools. This graphic was used to help put students in the mood. It was nice, and captured the imagination of students right off the bat.
At the time, WEB140 Web Development Tools suffered from a series of problems: As an entry-level course for graphic design, web design and web development degree programs, this course had a very high enrollment rate. This was offset by a very low passing rate among students, and low student engagement of students in these courses. With our completions in this course at a very poor showing, I endeavoured to increase retention through greater students engagement by creating a gamified environment in which the students could learn and thrive.
Solution-specific ideas
The premise of the gamification came across naturally. I contacted students from the last year in WEB140 across several different sections, and asked some open-ended questions about the material. What made the courses work for them? Where did they stumble or fall, and how could we fix it?
Students admitted that the reason they did not enjoy the web coursework was because they were not engaged, and could not "get into it". Based on numbers, quizzes and tests scored low because students did not retain the information or glossed over the work. Because they learned the material once, created it once, and then moved on— many students felt that they could ignore the material. Later, as each assignment built upon the last, students found that they had not repeated the material enough to absorb it, and had "forgotten what to do" or "how to do those kinds of things." Further, they noted that it was difficult to contact instructors about problems, because many students waited until the due date to upload or even begin their projects.
In an effort to combat this, I made a herculean effort to pull this down into a workable format of solutions I could actually achieve:
ENGAGE
I would work to engage the students with great artwork and a storyline which would allow them to become immersed. They would take on the mantle of an Intergalactic Spy, using artwork (through written permission on the part of the copyright holder) and a small adjustment to the storyline. Assembling code, building specific content, troubleshooting errors and problems, and generally assuring that materials could be made in an HTML environment, students would work their way through a 16 week story, one episode at a time, protecting a priceless treasure and solving a murder mystery.
ALLOW REPETITION
A key point for students was that they were allowed to skip materials with low grades. This compounded their problems with quizzes, midterms, and final examinations. The solution: Allow repetition of course materials until a satisfactory solution was found. Quizzes offered every two weeks would require a minimum score to pass. If a student did not receive the minimum score, or desired to re-take the material, they were allowed 3 scores, and only the largest score counted. In this way, students who scored poorly on basic tags would be allowed to retake the quiz multiple times. Until they scored the minimum amount, they had to take the test again, and if all attempts were completed, the student would then be allowed to proceed and had to keep a low score (but the highest score would count).
LATE NIGHT ACCESS TO THE INSTRUCTOR
In an effort to make students feel as if they could reach out to me (the instructor), I offered to be available from 11p-1a 4 days a week: Evenings on the first day of the week, and within the last 3 days of the week.
Story Form Engagement
By taking the students through the materials one item at a time, student were exposed to a story in serialized form. Each decision allowed student to take quizzes and open things like a choose-your-own-adventure book. A strict list of deliverables were noting requirements each week, and each was made available one item at a time with encouraging messages and explanations. Great artwork moved them through the story with chunked information.
Did it work? Not really. In general numbers, the course was a success, with students having much improved quiz scores and test grades. It seems this was probably an extension of the multiple quiz attempts and a larger pool of exam questions from which to draw. A numeric success, students noted they were actually less engaged in the class than they were in other courses.
Chocolate Covered Broccoli
Students mentioned in exit interviews that the course was exciting for the first 8 weeks or less only. After 8 weeks, the gamification storyline began to become less exciting and more filler content which stopped them from getting to the real meat of the course. Students who missed assignments or failed to turn them in missed content, stating that they could not follow the story any more. Students who did not read the course material failed to understand that there were minimum quiz grades and found they were flunking early in the semester, and many chose to drop.
After the midterm, many students said that they were facing fatigue. Too many classes, too many projects, and they admitted that by week 9 they were simply skipping over the content to get to the work. One student mentioned very specifically: "I didn't read the story after the midterm. I just wanted to get my work done and find out what the next item on the list was and get my grade."
Seems like building out all the dependencies and choose-your-own-adventure story lines were really some wasted time and effort. Scores did increase, but the story was not engaging. After
Second Time Is The Charm
In WEB141 Mobile Interface Design, students found that they were highly disengaged with the class, noting that book materials were very paint-by-number, and had little to do with real life problems. Students found it difficult to tell where they in the class, with scores for midterms, finals, and assignments clearly defined, but still hard to calculate where students should put their efforts. Student who fell behind in online courses felt that they could not gain any headway, and messing up on a project or two when coupled with the midterm left them flat with no way to raise their grade.
To combat the issue, Nic D'Agata looked at the data and changed his tactics to better meet student needs.
GAMIFICATION AT THEIR WILL
Since students in the first class found that the gamification content was a distraction, Nic built his material as an overlay. Content for the course changed little, with the gamification built over the top. Students had the option to ignore the gamification elements without detriment to the course content.
QUICK GAUGE OF PROGRESS
Many students found they could not tell which items were best for their grades, and the best uses of their time. Nic installed a system of "Money" earned through the course of the semester. Each week offered one or more project. Each project was a contract with a client, offering money for project which met the minimum requirements, and greater funds for projects which excel. Students were given the goal to reach $1 million by the end of the semester.
Nic also included a leaderboard where students could see their progress compared to other students. No names were given, so no privileged information is released, but it could encourage students to work harder if they're in the wrong spot.
INCREASE RANK AT THE STUDENTS' CHOICE
Students often found that getting behind was like getting in a hole too deep to get out of. At strategic points in the semester, students were treated to "Freelance" options, where they could troubleshoot existing code and earn money to increase their monetary income. This was essentially enrichment activities where students could increase their understanding or take on additional work to increase their grades.
RECOGNITION FOR A JOB WELL DONE
Using blackboard achievements and badges, students would be automatically notified of "industry recognition". Students could see the badges and gain an instant warm fuzzy for having some minor graphics provided to them.
On the right track
Overall, students reported that they felt more engaged in a course with open-ended projects and gamified elements.
Best of both worlds
Students enjoyed some open-ended projects and did not miss the "paint-by-numbers" approach. Some people really liked the 8-bit gaming platform of the course, and most people enjoyed the scoreboard/leaderboard process. This, along with the monetary system, was super-effective at motivating students
Nothing is ever perfect
Some people found that the assistant screen was difficult to watch and they got tired of waiting. Some students felt the monetary system was hard to understand, and they were looking for answers in grade format. It could very well be that they had skipped over some of the early material, but there is no way to tell.
The Assistant
The assistant is a moving digital display which lays out the information needed in each lesson. In some lessons this outlines projects, in others, it outlines specifics about the learning methods. While only a small number found it detrimental, it was almost a 50/50 split on Liking/Not Caring for the assistant.
Leaderboards
The leaderboard answered questions that many students had about their grades, their places in the class, and provided some good motivation. The material was helpful to most students, with many students noting it as a prime motivator. Some students (about 1-2 per semester) found the leaderboard to be a source of anxiety causing them to worry about their location in the class.
The Leaderboard was a simple tool plugin, and could quite easily be coded into your classes.

Hands-On Leaderboard Addition Demonstration
At this point in the presentation, Nicolas answered questions about adding in the leaderboard. Using HTML code directly in his blackboard course, Nic added the leaderboard in to an older course as a demonstration. It was complicated, but well-received.

SHOW AND TELL IS OVER
At this point, we've talked about our personal experiences, so lets begin some insight into how you can add this to your classes.

Blackboard Badging and Certificates
The blackboard badging and certificate systems are available to all current blackboard shells. They can both be accessed through the TOOLS menu options on the lefthand side. You can work with existing items, create your own, make your own certifications, etc. They are easily created, and can easily integrate with your course shells at any time.
At this time, we created a shown, in-person demonstration on the overhead.

Conclusion
The services we showed at the end of the material allowed us to include Quizlet materials for easy self-study materials, online games like Play Brighter or Virtonomics, advanced tools like Duolingo, or creating your own badges and materials with OpenBadges. The material was well received, and we did a few extra demonstrations on how to include teaching materials from duplingo, integrating quizlet, and Q&A was fairly sedate.
This year, Wake Tech Community College has fully vetted College Central Network (CCN)and CollegeCentalNetwork.com as our official hiring network. College Central is one of the most visited entry-level job sites on the Internet. It provides both students and alumni with the ability to search their respective colleges' or universities' secure jobs databases, plus CCN's Jobs Central national job board, with millions of jobs posted to date. The site also features valuable content geared toward entry-level job seekers.
In an effort to get the word out to students, the school has requested that the Advertising and Graphic Design Department run the materials in our classes as a project or extra credit project. Out of 4 potential candidates, 2 final winners were both chosen from my class: Kristine Kelly and Heather Heffner.
Its always a pleasure to create projects that the school can use. It was doubly good to see actual flyers hanging around the school. We were allowed to use the new Wake Tech Logo, and the students were able to add QR codes to the flyers, which was a really nice surprise. I think it earned us some extra points.
A special thank you to Rhonda Pickett for working with us on this job. The Advertising and Graphic Design Department at Wake Tech is always ready to help, whether its a class run by Tyler Dockery, Marsha Mills, Woody Hayes, or Alison Consol. Go Wake Tech!